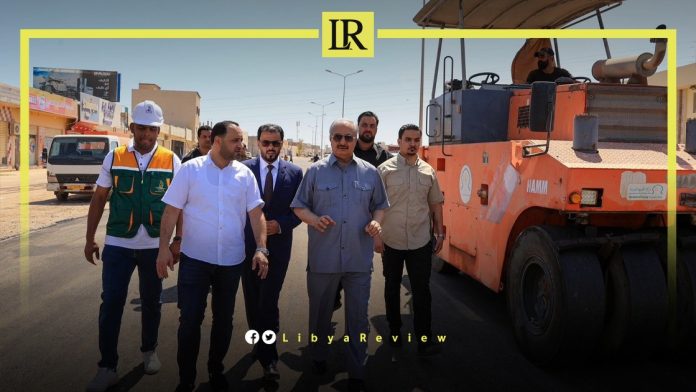 On Thursday, the Commander of the Libyan National Army (LNA), Field Marshal Khalifa Haftar carried out a comprehensive inspection tour of reconstruction projects in Benghazi. He was accompanied by Libyan Parliament-designated Prime Minister, Osama Hammad.

During his tour, Haftar inspected several key project sites including the University of Benghazi, the Sports City, Al-Hawari Bridge, and the Airport Road. He also toured residential neighbourhoods presently undergoing refurbishment.

According to a statement, the objective of the visit was to get a first-hand insight into the ongoing restoration works, and ongoing projects unfolding in Benghazi.

The statement added that Haftar "praised the hard work and dedication demonstrated by Prime Minister Osama Hammad, Hatem Al-Aribi, the Head of the Reconstruction and Stability Committee, and the companies tasked with the city's revitalization and upkeep." He underscored the need to maintain the current tempo of work.

The LNA Commander noted that he had issued instructions to the Benghazi Municipality back in 2019. His directives included the "immediate initiation of steps for the reconstruction and development of the city. Our investment in this crucial strategic initiative aligns with our commitment to our martyrs, who sacrificed their lives for Benghazi's liberation from dark forces. The inhabitants of the historic city of Benghazi deserve to see their city evolve into a distinguished economic, cultural, and civilizational center."

Benghazi, Libya's second-largest city, has a long and rich history dating back to Greek and Roman times when it was a hub of trade and learning. The city has endured much hardship, including numerous conflicts and periods of political instability.

More recently, Benghazi was the cradle of the 2011 uprising against Muammar Gaddafi. After the fall of Gaddafi, the city plunged into years of violent conflict involving various militias, extremist groups, and factions of the Libyan army. In 2014, Haftar, a former Gaddafi official and then leader of the self-styled LNA, launched Operation Dignity to regain control of Benghazi from radical Islamist militias.

The conflict took a heavy toll on Benghazi, causing extensive damage to infrastructure, housing, and public services, and displacing thousands of people. After declaring victory in July 2017, Haftar and the LNA have focused on maintaining control of the eastern part of the country, including Benghazi.

Despite the significant challenges, there has been a push to restore and redevelop the city. The aforementioned civilizational plan, which Haftar highlighted in his statements, represents a part of this broader vision of post-conflict recovery and renewal. The engagement of international firms like LEEAD indicates international interest and investment in the city's future.