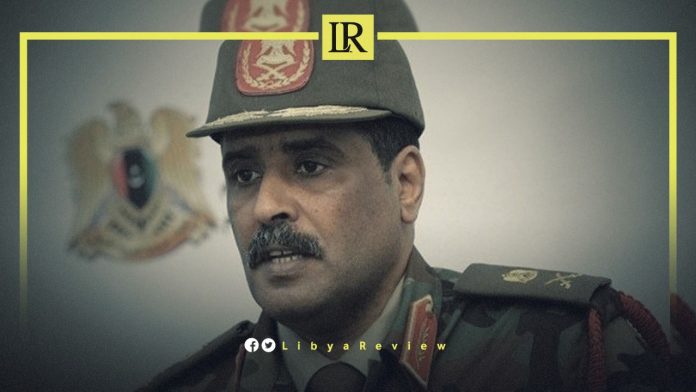 On Saturday, the Spokesperson for the Libyan National Army (LNA), Major General Ahmed Al-Mismari, voiced concerns over escalating tensions in Niger. He indicated the potentially serious implications for regional security. While the situation is currently considered a domestic matter for Niger, the LNA remains vigilant.

In a recent press briefing, Al-Mismari shared that the Libyan military has amped up its readiness, with a keen focus on heightened surveillance and reconnaissance of Libya's southern border regions.

This boost in security measures reflects the fears of potential upheaval resulting from volatile conditions in the region, which could create a conducive environment for the resurgence of extremist factions.

The LNA Spokesperson indicated that there are concerns over such groups leveraging Niger's instability as a springboard to infiltrate Libyan territories. He asserted, "our military will thwart any such attempts, maintaining a strong defense to safeguard Libyan interests."

He further ensured that if the Nigerien citizens were forced to seek asylum in Libya due to increasing unrest, they would be received and provided humanitarian assistance by Libyan forces within their capabilities.

Reiterating the preparedness of the Libyan National Army, Al-Mismari emphasised that comprehensive military strategies were in place to preserve the hard-won military successes in southwestern Libya.

In conclusion, Al-Mismari implored the European Union (EU) and Italy to devise effective solutions for the growing migrant crisis transiting through Libya. He urged these entities not to allow Libya to shoulder this challenge alone but to engage the source countries in addressing the issue.

These developments underscore the LNA's commitment to maintaining border security and national stability amidst regional tensions.
Libya is a country located in North Africa, bordered by the Mediterranean Sea to the North, Egypt to the East, Sudan to the Southeast, Chad and Niger to the South, and Algeria and Tunisia to the West. The nation has a long history of geopolitical significance, largely due to its oil reserves, which are among the largest globally.

Since the overthrow of late long-time leader Moammar Gaddafi in 2011, Libya has faced significant political turmoil, often erupting into violent conflict. The ensuing instability has led to a power vacuum, allowing militant groups to seize control in various parts of the country.

Niger, on Libya's southern border, has also experienced political instability and conflict, becoming a hotbed for extremist groups in the Sahel region. In the past, these groups have used Niger's instability as a springboard to infiltrate into neighbouring countries, raising concerns in Libya about the potential for such infiltrations.