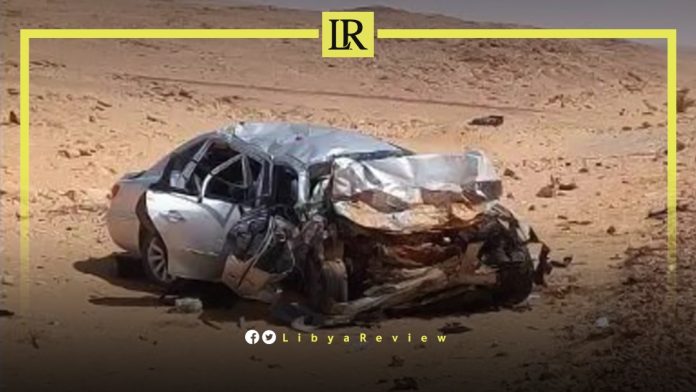 On Sunday, the Brak General Hospital confirmed that eight people were killed, and two others sustained critical injuries in a car accident on the Shuwairif-Barak Al-Shati road, southwest Libya.

The hospital statement highlighted the critical condition of the injured individuals, and acknowledged the efforts of the emergency and ambulance services in the municipalities of Brak Al-Shati and Al-Qurda Al-Shati. It also expressed concern over the absence of government support, and inadequate resources.

"Despite our appeals to the relevant authorities, there seems to be a lack of response to our pleas," the hospital said.

The Traffic and Licensing Administration attributed the accident to "wrong overtaking," emphasizing that such manoeuvres lead to the most dangerous head-on collisions with fatal consequences.

In April, seven people were killed in a traffic accident after two cars collided, in the east of the country.

The accident occurred on the Coastal Road between Ras Lanuf and Sidra. A family of five died, in addition to two other victims in the other car.

The two cars caught fire, and firefighters tried to control the intensely burning flames, which left the two vehicles charred.

In October 2022, a family of eight were killed in a traffic accident in the Umm Al-Gharaniq area, east of Sirte.

The incident occurred after a small car and a passenger bus collided with a herd of camels on the Ras Lanuf-Ajdabiya road. A man, his wife, four sons, and two daughters were killed in the accident.

The phenomenon of loose camels is widespread on highways, in several regions of Libya. These are known to cause traffic accidents, resulting in human and material losses.

In 2021, the then-Interior Ministry of the Government of National Accord (GNA) announced that 1,761 deaths were recorded in 4,131 traffic accidents between January-November 2020.

The Ministry noted in a statement that 1,743 people were severely injured, and 1,532 others sustained minor injuries.

"As a result of those accidents, 6,641 cars were damaged, while the total value of losses was estimated at 280 million Libyan Dinars.