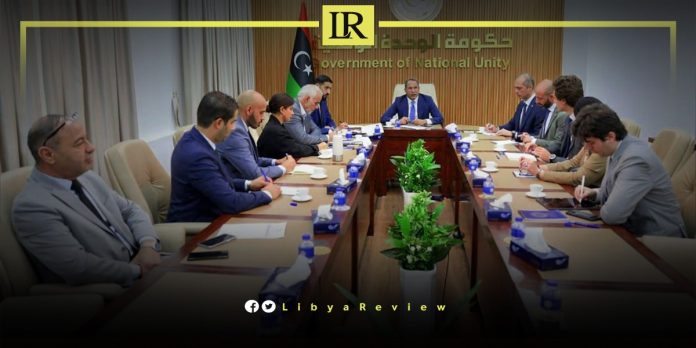 In an initiative to bolster bilateral relations, the Italy-Libya Business Forum task force met on Thursday to discuss final procedures for reopening direct flights between the two countries.
As revealed on its Twitter, the Italian Embassy in Libya said the team was "keen on advancing measures for resuming air connectivity. This encompasses agreements reached between civil aviation bodies of both Italy and Libya. Additionally, the talks spotlighted the potential for deepening academic collaboration."
The meeting, sponsored by the Libyan Minister of State for the Prime Minister's Affairs, Adel Juma revolved around amplifying trade relationships between Libya and Italy, and prioritising the role of small and medium enterprises.
The dialogue was attended by key figures, including Juma and the Italian Ambassador to Libya, Gianluca Alberini, according to the "Hakometna" platform.
They came together to streamline preparations for the upcoming Italy-Libya Business Forum, which is to be held in Tripoli.
Among the meeting's attendees was Deputy Minister of Economy, Suhail Abu Sheiha, Civil Aviation Head, Mohamed Shleibak, Director of Foreign Affairs in the Council of Ministers, the advisor to the Foreign Minister, the Deputy Ambassador from the Italian Embassy, as well as their Economic, Trade, and Academic consultants.
The resumption of flights between Libya and Italy is a positive step towards restoring normal relations between the two countries. It is hoped that the resumption of flights will lead to an increase in tourism and trade between the two countries.
Libya has been in a state of turmoil for the past decade, following the long-time leader Muammer Gaddafi. The country has been divided between rival governments and militias, leading to a civil war that has killed and displaced thousands.
In July, Libyan Prime Minister, Abdel-Hamid Dbaiba announced that the Italian government has decided to lift the decade-long air traffic restriction, placed on Libyan civil aviation.
He applauded the transportation sector, the committee assigned to resolve the issue, and all those involved in bringing about this progressive move which, according to him, will notably ease travel for Libyan citizens.
Reposting an earlier tweet following his return from a diplomatic trip to Rome in June, Dbaiba reaffirmed his commitment to working with Italian authorities to expedite the process of lifting the ban. He also emphasised the need to simplify the visa process for Libyan citizens.
Diplomatic ties between Tripoli and Rome have seen significant improvement this year. The strengthening of relationships was initiated by a visit from an Italian government delegation, led by Prime Minister Giorgia Meloni. The visit resulted in the signing of several agreements, primarily focusing on the exploration and development of gas and oil resources.