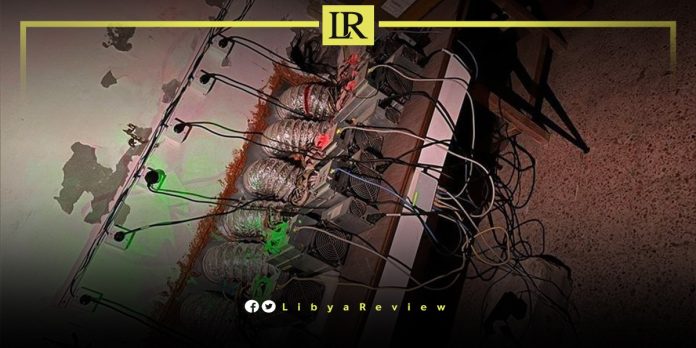 Authorities from the First Company, in collaboration with the Janzour Internal Security Office, have disclosed a significant illegal operation in Janzour after days of surveillance and investigation. Initial suspicions arose from the site's use of high-powered equipment that violated energy regulations.

Upon inspection, the team discovered equipment used for cryptocurrency mining, specifically Bitcoin, as well as associated cooling systems. These systems not only operate at extremely high electrical capacities but also pose significant economic and public safety risks. Such operations are particularly concerning as they evade governmental oversight and regulation.

All confiscated items have been secured, and legal actions are underway. The case has been transferred to the appropriate authorities for further investigation.

Last June, Libyan authorities arrested 12 Chinese expatriates on charges of illegal mining of cryptocurrencies, such as Bitcoin and others.

The Libyan Attorney General's Office said that 10 people were arrested in the city of Misrata, and two others in the capital, Tripoli.

The Office published a video of the two sites, after they were raided by the police. Law enforcement officers found computers used to perform complex calculations. "These computers have been proven to be used for illegal mining of virtual currencies," the statement said.

Since 2018, the Central Bank of Libya (CBL) imposed a ban on investing in cryptocurrencies. However, a study published in December 2022 by the Policy Center for the New South (PCNS) stated that about 1.3% of the total population in Libya ignore this ban.

Libyan authorities say that mining drains electrical power. The war-torn country has long suffered from frequent power outages. Libyans are sometimes in complete darkness as a result of theft of electricity cables, or militia fighting in the streets and damage to the main electrical transformers.

In a separate context, the Organised Crime and Corruption Reporting Project (OCCRP) revealed a leaked financial review claiming that the CBL failed to account for the delivery of US$4.8 billion worth of dinar banknotes, from a British printing company.