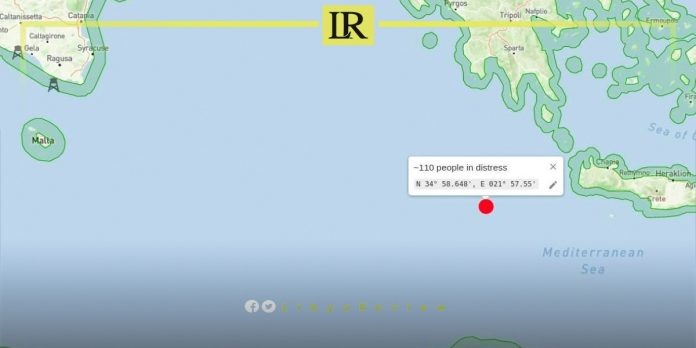 A Libyan-flagged vessel opened fire on a boat carrying 110 migrants in the Mediterranean on Friday, according to NGO, Alarm Phone.

The incident took place within Malta's search and rescue (SAR) zone, putting the lives of those on board in jeopardy, the Times of Malta newspaper reported.

Alarm Phone stated that the migrants had contacted them, reporting that they were being threatened by gunfire from an unidentified small vessel displaying the Libyan flag.

The boat had departed from the border region of Lebanon near Syria, aiming to reach Italy.

An estimated 40 children were among the passengers. They also disclosed that the boat had been targeted by the Libyan vessel, resulting in one person being injured. Despite repeatedly calling for help, the boat had not received any assistance.

Alarm Phone was in direct contact with the boat, and had alerted the relevant authorities. Subsequently, the organization reported that the boat was attempting to reach Greece. The Greek authorities were duly informed, as stated by the NGO.

This is not the first time that NGO's have reported incidents involving gunfire near suspected migrant vessels.

In a separate incident in March, footage showing the Libyan Coast Guard firing at a boat carrying approximately 80 people was released. Prior to this, warning shots had been fired near a rescue ship in international waters.

SOS Mediterranee, an NGO operating a rescue ship called Ocean Viking, reported that a Libyan vessel had threatened their crew with firearms, after receiving an alert from Alarm Phone. The Libyan Coast Guard vessel, 656 dangerously approached the rescue ship, while attempts to establish communication were left unanswered. Gunshots were fired into the air by the patrol vessel, according to the NGO.

Furthermore, in 2021, the Libyan Navy launched an investigation following footage captured by NGO, Sea-Watch International. The footage showed a Libyan vessel firing in the direction of a small wooden boat carrying migrants, within Malta's search and rescue zone.

According to the United Nations High Commissioner for Refugees, over 130,000 individuals have arrived in Europe via sea since the beginning of the year.

Meanwhile, Italy and Greece have recorded significant numbers of arrivals, Malta has seen a much lower figure of 231 arrivals.

NGO's have accused Malta of failing to provide assistance to vessels suspected of carrying migrants, within its search and rescue zone. As well as coordinating "pushbacks" to Libya in collaboration with Libyan authorities.