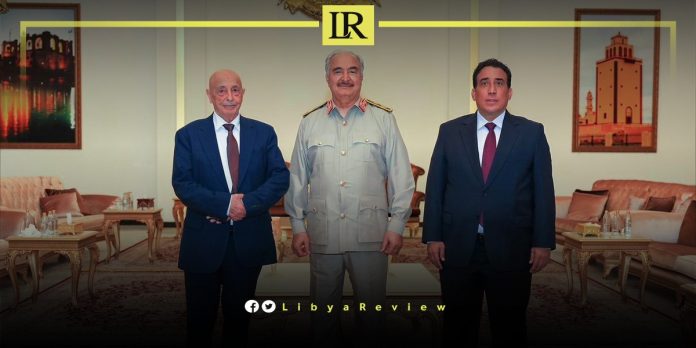 In a significant trilateral meeting held in Benghazi on Saturday, the General Commander of the Libyan National Army (LNA) Field Marshal Khalifa Haftar, the Head of the Presidential Council Mohamed Al-Mnifi, and Ageela Saleh, the Speaker of the Libyan Parliament, reached a consensus on the outcomes of the 6+6 Joint Committee concerning the electoral laws.

The meeting revolved around entrusting the Parliament with adopting electoral laws proposed by the Committee, once they are finalised.

Central to their discussion was the emphasis on engaging "solely within the national framework for any special committee concerning the political landscape." They urged the UN Envoy, Abdoulaye Bathily to refrain from taking unilateral steps in the political process.

According to a statement, the attendees agreed on the "national sovereignty of any political action and national dialogue." They emphasised not participating in any committees outside the internal national framework.

The dignitaries stressed the importance of Al-Mnifi calling a meeting that includes the Parliament and the High Council of State (HCS). This is to consult on the national political track, and achieve the broadest possible agreements to enact electoral laws.

On 8 August, the Parliament referred the Presidential and Parliamentary laws to the 6+6 Committee, following certain reservations voiced by the Council.

Abdullah Blaiheg, the Parliament's Spokesman pointed out one of the major rejected clauses which compelled Presidential candidates to undergo two election rounds.
Under the present electoral laws, a Presidential candidate might amass 90% of the votes in the primary round, but still not be declared the winner. Such candidates, as per current stipulations, are compelled to proceed to a second round. Given this, the Parliament is advocating for a modification allowing the possibility of determining results, within the inaugural round itself.

In June, the Committee announced its agreement on two draft electoral laws, and referred them to the Parliament and HCS for necessary action.