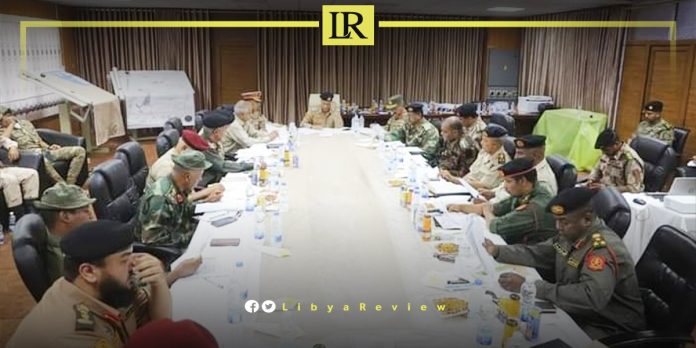 The Commander of the southern operations of the Libyan National Army (LNA) held a meeting with regional leaders, military units, and security forces to initiate the second phase of the plan to secure the country's southwestern borders.

According to a statement, Libyan military leaders expressed their "full readiness to implement the border security plan and adhere to its objectives."

Days ago, a Libyan military source told Russia's Sputnik news agency that the LNA had dispatched military reinforcements to the border region with Chad. This is in anticipation of potential emergencies arising from disputes between Chadian leaders.

The source, who remained anonymous, stated, "The Libyan Army command sent military reinforcements, including personnel and equipment, near the border strip with Chad."

The source further explained that these military reinforcements were deployed to prepare for any contingencies following the outbreak of disputes among Chadian leaders, within Chad itself.

Notably, the Chadian army has targeted Chadian opposition sites located inside Libyan territory, and successfully destroyed several ammunition and weapons depots.

The strike was launched with the approval of the Libyan government, a source at the Chadian presidency informed Al-Jazeera news.

The Front for Change and Concord in Chad (FACT) also reported that the airstrikes resulted in the deaths of four opposition fighters, and declared the cancellation of the ceasefire declared in April 2021.

In a statement issued, FACT stated, "The ruling military council has declared war on us. Therefore, the Coalition for Change and Concord in Chad (CCOC) announces the end of the unilateral ceasefire declared in April 2021, and assures the military council that its response will be swift and unrestricted."

This announcement made by the coalition on Friday raises concerns about the possibility of a full-scale return of hostilities between the Chadian government, and the CCOC.