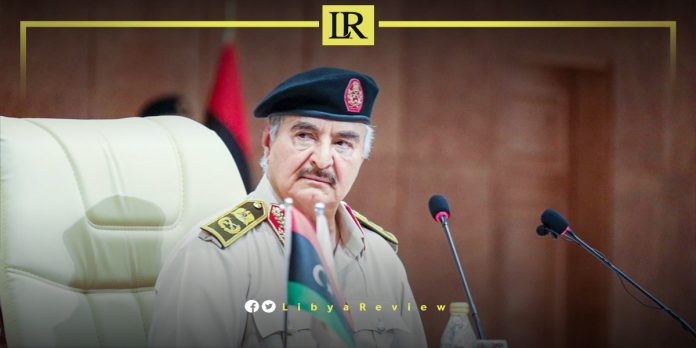 The General Commander of the Libyan National Army (LNA), Field Marshal Khalifa Haftar, delivered an empowering message on Tuesday to the elders, academics, students, and representatives of youth organisations from Tripoli and the western region.

Haftar began by expressing his gratitude for their presence, stating, "Your attendance today amplifies our confidence that Libya remains robust, and that its future is full of promise. It reinforces to all, near and far, that Libya is not divided between east or west, north or south. Instead, it's a cohesive family, functioning effectively only when united. Your presence here in this resilient city sends invigorating messages to all Libyans, reassuring them that Libya can overcome any strife. It signifies that our fate, wherever we are in this sacred nation, is a shared one that we shape together, without external influence."

"This significant gathering reaffirms that the Libyan youth, scholars, elders, and intellectuals, not just from the Western cities but across the nation, are committed to challenging the status quo. They aim to break down barriers erected by misleading narratives, forge ahead, and work relentlessly toward crafting a comprehensive and just solution. This determination aligns with the dedication of our armed forces, always by your side, stride for stride, to salvage our nation and bolster its foundations for a flourishing future," the LNA Commander added.

Discussing priorities, Haftar emphasised the significance of education. "Our mutual aspirations hinge on building a state that's exemplary in governance and administration. Ensuring the welfare of our students and educators, and reinforcing our educational institutions should be at the forefront. When armed with knowledge, a society can command its destiny, ensuring a promising present and future."

Concluding his address, he said, "We wholeheartedly welcome and appreciate this courageous national initiative. Our journey, through thick and thin, is a shared one, driven by steadfastness and determination. Our ultimate goal is a tranquil Libya, harnessing every resource and potential for growth and prosperity."

Libya has been in chaos since a NATO-backed uprising toppled longtime leader Muammar Gaddafi in 2011. The county has for years been split between rival administrations, each backed by rogue militias and foreign governments.