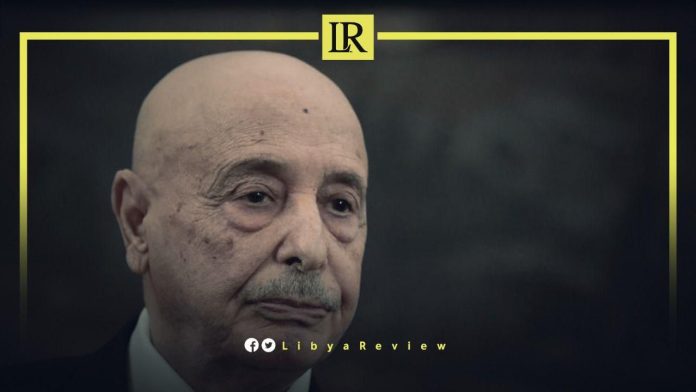 On Tuesday, the Speaker of the Libyan Parliament, Ageela Saleh announced a categorical rejection of any attempts at normalising diplomatic ties with Israel. The announcement was made during a call with Rawhi Fattouh, the President of the Palestinian National Council.
Saleh's statement is in direct response to recent moves by Libya's Government of National Unity (GNU). The Foreign Minister, Najla al-Mangoush, has reportedly met with Israeli Foreign Minister, Eli Cohen in Rome, sparking national and international attention.
During the call, Saleh reiterated that the "Libyan government and its people stand firmly behind the Palestinian quest for enduring rights, including the establishment of an independent state with Jerusalem as its capital, and the return of displaced Palestinians to their homes."
In turn, Fattouh thanked the Parliament for its "unwavering stand, articulated in an emergency session conducted on Monday."
To strengthen the longstanding bilateral ties between Libya and Palestine, Saleh extended an invitation to Fattouh to visit Libya, and the Parliament.
This pivotal development adds a new layer to Libya's foreign policy narrative, and is congruent with a rising wave of regional resistance to the normalisation of relations with Israel.
Notably, an Israeli official stated on Monday that Al-Mangoush and Cohen engaged in a conversation for over two hours during a meeting in Italy. He told Reuters that the meeting was prearranged at the "highest levels" in Libya, contradicting Libyan statements of an unplanned encounter that sparked protests across the country.
Libya does not recognise Israel and supports the establishment of a Palestinian state.
The Foreign Ministry in Tripoli stated that Al-Mangoush had refused to hold any meetings with Israeli representatives, and what occurred in Rome was an "incidental, unofficial meeting during a meeting with Italian Foreign Minister, Antonio Tajani."
However, the Israeli official cast doubt on this account, saying, "The meeting was prearranged at the highest levels in Libya, and lasted for about two hours. The Libyan Prime Minister views Israel as a potential bridge to the West and the US administration."