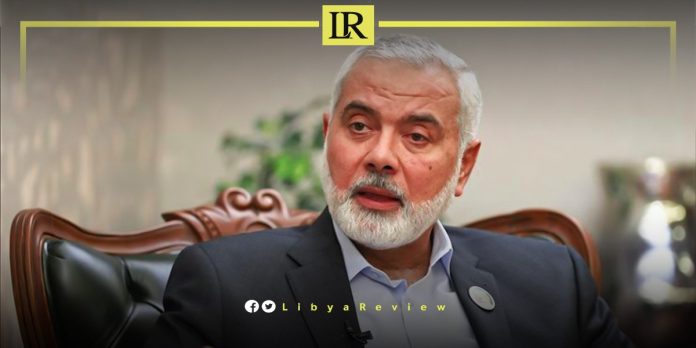 Ismail Haniyeh, the Head of Hamas' political bureau, held a telephone conversation on Thursday with Mohamed Al-Mnifi, the Head of Libya's Presidential Council, to discuss the latest developments in the Palestinian issue.
During the call, Haniyeh expressed the Palestinian people's "deep appreciation for Libya's unwavering refusal to normalize relations with Israel." He pointed out that "recent Israeli attempts to erode this honourable Libyan position have failed. "
"The Palestinian people, across all their communities, have received Libya's stance with great pride and esteem, particularly given the negative winds of change that have swept through some Arab capitals with respect to normalisation with Israel," said Haniyeh.
The Hamas leader emphasised that Libya's position "offers robust support to the Palestinian people in facing the oppressive policies of the Israeli occupation. It acts as a bulwark against schemes aimed at undermining the foundational pillars of the Palestinian cause."
In turn, Al-Mnifi reaffirmed Libya's unchanging position on the Palestinian issue, and its refusal to normalise relations with Israel. He underscored Libya's commitment to the rights of the Palestinian people, stating, "Libya will not cross any red lines in its relationship with Palestine, and its perspective on the Israeli occupation."
Al-Mnifi further clarified that Libyan foreign policy remains steadfastly in support of the Palestinian cause, and any deviations from this stance do not reflect official Libyan policy.
Notably, an Israeli official stated last week that Libyan Foreign Minister, Najla Al-Mangoush and her Israeli counterpart, Eli Cohen engaged in a conversation for over two hours during a meeting in Italy. He told Reuters that the meeting was prearranged at the "highest levels" in Libya, contradicting Libyan statements of an unplanned encounter that sparked protests across the country.
Libya does not recognise Israel and supports the establishment of a Palestinian state.
The Foreign Ministry in Tripoli stated that Al-Mangoush had refused to hold any meetings with Israeli representatives, and what occurred in Rome was an "incidental, unofficial meeting during a meeting with Italian Foreign Minister, Antonio Tajani."
However, the Israeli official cast doubt on this account, saying, "The meeting was prearranged at the highest levels in Libya, and lasted for about two hours. The Libyan Prime Minister views Israel as a potential bridge to the West and the US administration."