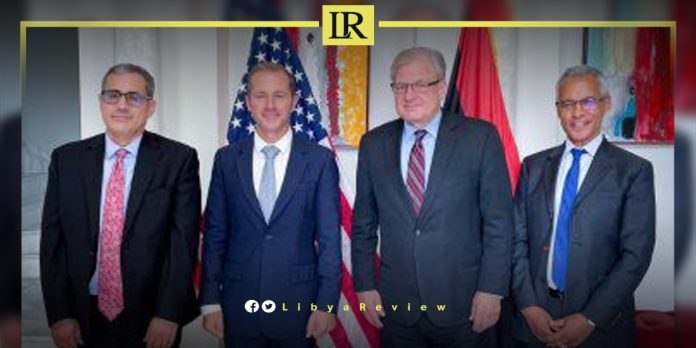 In a critical meeting held in Tunisia's capital, US Special Envoy to Libya, Richard Norland and French Special Envoy, Paul Soler jointly expressed support for establishing a new technocratic government in Libya, to oversee Parliamentary and Presidential elections.
The US Embassy in Libya released a statement outlining that the discussions between the two delved into Libya's political landscape. Both parties emphasised their backing for the 6+6 Joint Committee, urging its prompt finalisation of electoral legislation in the nation.
Abdoulaye Bathily, the UN Envoy and Head of the United Nations Support Mission in Libya (UNSMIL), is actively engaged in discussions with various factions to bridge the gaps, and resolve the enduring political crisis.
Bathily is focused on persuading key Libyan stakeholders to convene for a comprehensive political agreement, which would include the final formulation of electoral laws by the 6+6 Committee. As well as the unification of executive powers in Libya.
During a briefing to the UN Security Council last week, he emphasised the urgent need for a consensual, unified government. He argued that completing the legal framework for elections is "indispensable for fulfilling the Libyan people's desire for legitimate governance, sustainable stability, and enduring peace."
Libya is currently divided between two main rival administrations: the Tripoli-based Government of National Unity (GNU) in the west, and the Parliament-designated government in the east.
Various foreign powers have also intervened, backing different sides in the conflict. The situation is further complicated by the presence of numerous militias and extremist groups. This mosaic of internal and external forces has made it extremely difficult to navigate a path toward peace and stability.
The United States has had a complex relationship with Libya since the fall of Gaddafi. Initially involved in the NATO-led intervention that led to Gaddafi's ousting, Washington has since taken a more diplomatic role, aiming to negotiate peace between rival factions. Various US administrations have supported UN-led initiatives to form a national government and hold elections, recognising that a democratic process is key to resolving the ongoing crisis.