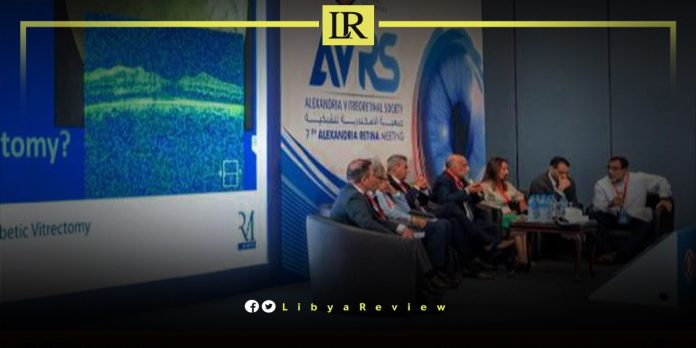 Libya recently took part in the 7th annual conference organised by the Alexandria Retina Society, focusing on the latest medical and treatment developments related to retinal diseases.
Representing Libya at the conference was Dr. Alghareeb Al-Baghdadi, a specialist in ophthalmology and retinal diseases at the Tripoli Eye Hospital. He presented a research paper highlighting cases where retinal foreign bodies and debris removal surgeries were performed at the hospital.
The conference, held on August 24th and 25th, featured participation from consultants and specialists from various countries, including Egypt, Russia, the United States, Italy, the United Kingdom, France, the United Arab Emirates, Turkey, Saudi Arabia, Tunisia, India, and Jordan.
Dr. Al-Baghdadi emphasised the significance of participating in international medical conferences. Dr. Al-Baghdadi highlighted its role in enhancing knowledge exchange, fostering collaborations with advanced countries in the field of treatment, and boosting national research capabilities.
Libya's involvement in such conferences contributes to its healthcare professionals' expertise and promotes international medical cooperation. This ensures the access to the latest advancements in the field of ophthalmology and retinal diseases treatment.
Notably, Médecins Sans Frontières (MSF), the renowned global medical humanitarian organization, announced on Thursday, the discontinuation of its health services in Tripoli, Libya.
This initiative, effective immediately, particularly impacts migrants, asylum seekers, and refugees who benefitted from MSF's interventions in both detention centres and urban environments.
By the year's end, MSF will also withdraw its support to the National Tuberculosis Programme and the Abu-Setta Hospital, both significant in addressing respiratory diseases in Tripoli.
The termination follows an intensive global assessment of MSF's humanitarian contributions, and subsequent budgetary adjustments.
Djoen Besselink, the operations manager at MSF, expressed the complexity of this decision, "the cessation of our medical initiatives in Tripoli is a poignant choice, and we're fully aware of its ramifications on healthcare accessibility."
MSF's commendable contributions since 2016, spanning health services in Tripoli's detention centres, included general and mental healthcare, specialised medical referrals, and facilitating access to protective services. Simultaneously, their mobile clinics in urban sectors and collaborations, with two primary health centres have been pivotal in reinforcing health promotion, and reproductive health initiatives.
In the fight against tuberculosis, MSF's endeavours in partnership with the Abu Setta Hospital and the National Tuberculosis Programme have been noteworthy. While their presence in Tripoli diminishes, activities will persist at the Misrata Chest Respiratory Hospital.