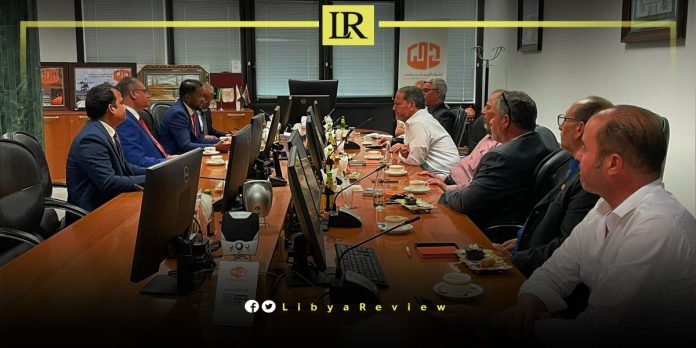 The Chairman of the Libyan Iron and Steel Company (LISCO), Mohamed Abdulmalik Al-Faqih, received the Ambassador of Bangladesh, Abu Hassanat Mohammad Khair and his accompanying delegation.
The meeting provided an opportunity for both parties to discuss areas of cooperation in the industrial sector. As well as explore avenues to strengthen and enhance collaborative efforts between the two sides.
During the meeting, Al-Faqih conveyed his keen interest in expanding bilateral ties.
Last week, LISCO announced that it has exported 12,000 tons of Hot Briquetted Iron (HBI) to Egypt.
A massive cargo ship carrying 150,000 tons of iron ore pellets from Brazil, docked at the company's port.
The company highlighted that the synchronization of the shipping and unloading operations follows the extension of the quay, to 1,080 meters. This is part of the company's infrastructure development plan.
On 31 July, the company announced that it had exported 37,000 tons of steel to Italy and Germany.
The company stated that the ship "S.Nibton" left the company's port, loaded with more than 27,000 tons of HBI, and was headed for Germany.
The company also explained that the ship "Immensity" entered the company's port, to ship more than 10,000 tons of HBI to Italy.
The company confirmed that it has "become the focus of attention of several countries across the globe, due to the quality of its steel products and smooth handling."
The company pointed out that "this is due to the great efforts made by all its employees, which enabled them to reserve a prestigious position among the major concerned companies."
In February, LISCO exported 17,500 tons of reinforcing steel to Albania, as part of a 100,000+ ton worldwide export plan. LISCO's Spokesman, Mahmoud Al-Khamaria confirmed that "this is not the first time that iron products have been exported to several countries in the world – with Albania being an export destination over the previous years."
He confirmed that over several years LISCO has exported to 38 countries, as part of its marketing plan since 1989.