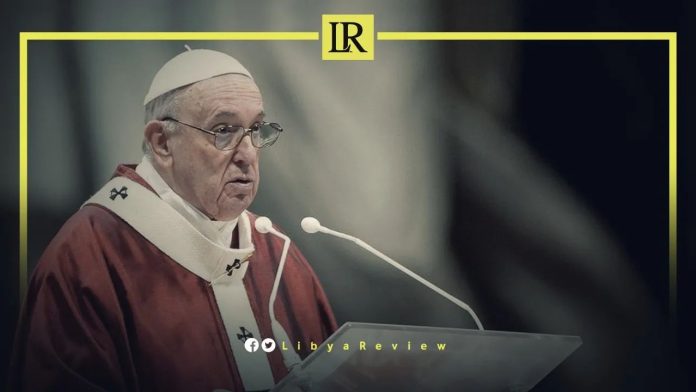 Pope Francis sent his condolences, and urged all people to pray and to offer concrete assistance to Libya, after a deadly storm claimed the lives of thousands.
He addressed pilgrims and visitors gathered in St. Peter's Square on 13 September for his weekly general audience. Pope Francis spoke about the intense storm that struck Libya on 10 September
"I invite you to join my prayers for those who have lost their lives, for their families and for the displaced people," the Pope said at his general audience.
"May we not fail in our solidarity with these brothers and sisters, tried by such a devastating calamity," he added.
The Pope's concern was expressed a day earlier in a telegram to Archbishop Savio Hon Tai-Fai, the nuncio to Libya.
"His Holiness Pope Francis was deeply saddened to learn of the immense loss of life and destruction caused by the flooding in the eastern part of Libya, and he sends the assurance of his prayers for the souls of the deceased and all who mourn their loss," said the telegram signed by Cardinal Pietro Parolin, Vatican Secretary of State.
"His Holiness also expresses heartfelt spiritual closeness to the injured, to those who fear for their missing loved ones, and to the emergency personnel providing rescue and relief assistance," the telegram added.
Notably, the Media Adviser to the Speaker of the Libyan Parliament, Fathi Al-Marimi, has revealed that the death toll from storm Daniel has surpassed 6,000, while the number of injured has exceeded 7,000.
During an interview with the Al-Arabiya channel, Al-Marimi noted that the Libyan Ambulance and Emergency Services have reported these figures.
On Sunday evening, regions in eastern Libya experienced intense floods, leading to numerous deaths and disappearances. Homes were submerged, and significant infrastructure damage was observed due to the Mediterranean storm, Daniel.
The storm caused devastating floods in Libya that destroyed dams, and swept away entire neighbourhoods in multiple coastal towns in the east of the nation.
The International Federation of Red Cross and Red Crescent Societies (IFRC) announced on Tuesday that over 10,000 people remain missing. The organisation anticipates a significant increase in the death toll.
AFP quoted Tariq Ramadan, an official from the organisation, saying, "The death count is massive, and could reach thousands. Independent sources confirm that the number of missing individuals stands at 10,000 so far."
Since a 2011 uprising that toppled and later killed longtime ruler Muammer Gaddafi, Libya has lacked a central government and the resulting lawlessness has meant dwindling investment in the country's roads and public services, and also minimal regulation of private buildings. The country is now split between rival governments in the east and west, each backed by an array of militias.