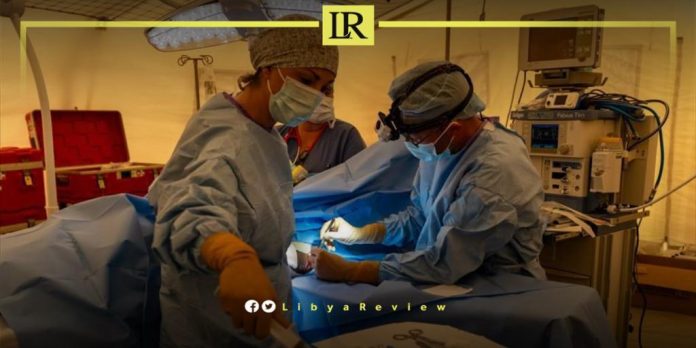 In response to the devastating aftermath of Hurricane Daniel, the Libyan Ministry of Health has urgently inaugurated six field hospitals, in the city of Derna.
Ali Al-Qatrani, Deputy Prime Minister-designate and a member of the Supreme Committee for Emergency Response, mentioned that the Ministry has "swiftly brought in specialized laboratories for analysis to Derna, though the specifics of these labs have not been detailed further."
During a press conference today, Al-Qatrani stated, "Our immediate priorities include road repair. The Reconstruction Committee has already started work in the affected areas. Additionally, we're focusing on bolstering the health sector, ensuring hospitals and health centers are equipped for a rapid response. Essential supplies and food for affected families are also being arranged with a clear mechanism for aid distribution."
Osman Abdel-Jalil, Minister of Health, emphasised that preventive measures have been executed, in collaboration with the National Center for Diseases on the ground.
"Yesterday, we launched an extensive vaccination campaign covering three groups. The first targets those involved in rescue operations, named the 'Triple Vaccination'. The second group encompasses healthcare center workers, while the third includes children aged 1 to 15 years," he said.
Reassuring the public, Abdel-Jalil affirmed that the bodies of the victims would not be a source of contamination. However, he cautioned that the "real contamination concern is water," urging residents to refrain from consuming water from wells and groundwater in the city.
Highlighting the psychological toll of the disaster, the Minister stated, "Given the massive shock experienced by Derna's residents, the ministry is placing significant emphasis on treatment and psychological support. If not addressed, the aftermath of this calamity will have severe long-term effects."
He revealed the formation of a high committee for psychological treatment, in cooperation with doctors from Tripoli, Misrata, and Benghazi. Furthermore, experts from Jordan have already arrived, and more specialists from Egypt are expected to join. Abdel-Jalil added that the World Health Organization (WHO) is closely monitoring the situation.