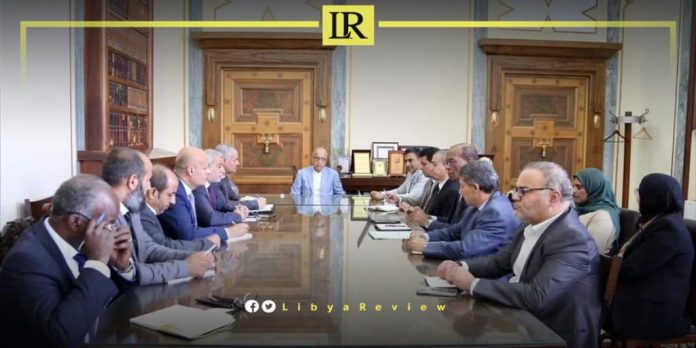 In a bid to address the challenges arising from the recent storm and deadly flooding, the Governor of the Central Bank of Libya (CBL), Al-Siddiq Al-Kabir, recently convened a meeting regarding the matter. This strategic gathering was attended by Deputy Governor, Marai Rahil, as well as the directors of the bank's various departments, focusing on the latest developments pertaining to emergencies in the affected areas.
According to a statement, Rahil presented an update during the meeting. He detailed the crisis committee's efforts, including their meeting in Benghazi, their visits to the impacted areas, and the immediate measures adopted by the bank branches to resume their operations, and provide necessary banking services and liquidity in these zones.
A significant point was the potential relocation of the halted bank branches, from the devastated areas to nearby regions. This strategic move is geared towards continuing the provision of services, and easing the challenges faced by the citizens.
Rahil applauded the liquidity team's exceptional efforts, which successfully secured 800 million dinars for branches in the eastern region. This move underlines the bank's commitment to ensuring financial stability, and services amidst challenging circumstances.
Notably, Osama Hamad, the Prime Minister of the Libyan Parliament-designated government, announced on Monday the dismissal of the entire municipal council of Derna, and its referral for investigation.
This decision comes in the aftermath of the widespread destruction caused by storm Daniel, which struck eastern Libya.
Thousands of residents of Derna gathered in the city center on Monday, protesting against the two Libyan governments in the east and west. They called for expediting efforts to recover the victims' bodies, and provide essential services to the devastated areas.
The protesters also urged the Libyan Attorney General to accelerate the investigation into the disaster. In a statement, they called for "taking all legal and judicial measures against anyone involved in negligence or theft that contributed to this catastrophe."
Hamad told the Al Arabiya news channel that rescue teams are still working to recover bodies from the sea. He added that these bodies are still in the water, located in difficult terrains.
The PM revealed that some countries have been requested to provide assistance by offering helicopters to aid in the recovery of these bodies.
Meanwhile, Health Minister, Othman Abdel-Jalil revealed that the death toll has reached 3,283 in the areas affected by last weeks storm.
He told Russia's Sputnik news that the latest statistics, as of Monday, indicate that 3,283 deaths have been confirmed, and have already been buried.