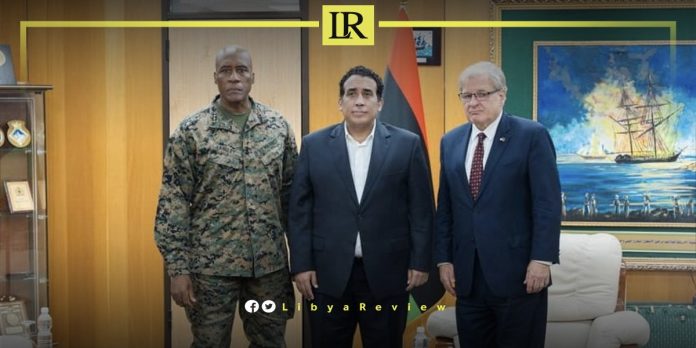 On Wednesday, the Head of Libya's Presidential Council, Mohamed Al-Mnifi met with the Commander of the US Africa Command (AFRICOM), General Michael Langley, and the US Special Envoy to Libya, Ambassador Richard Norland. First Lieutenant-General Mohamed Al-Haddad, the Chief of General Staff, also attended the meeting.
Gen. Langley offered profound condolences to Libya, focusing on the casualties from Derna and the Jebel Akhdar regions, both of which suffered significant damage from Hurricane Daniel. They also discussed establishing structured US support for the disaster-stricken zones.
They emphasized the importance of coordination and cooperation with AFRICOM, and its associated organizations in Libya to alleviate the plight of the residents in these regions. There was also a mutual drive to contribute towards restoring development and stability, throughout the affected areas.
Furthermore, the meeting covered the evolving political landscape in Libya, the prevailing security conditions in Libya's neighbours, and their implications on Libya's stability and security. Topics also touched upon border security and counter-terrorism measures.
Norland reiterated his support for Al-Mnifi's initiatives aimed at achieving a comprehensive political solution in Libya, and lauded the progress made by the Supreme Financial Committee.
Langley reinforced the United States' unwavering commitment to supporting Libyan relief efforts, especially in light of the recent floods.
Notably, on 10 September, a devastating storm swept through several eastern regions of Libya, notably the cities of Derna, Benghazi, Al-Bayda, Al-Marj, and Sousse. This resulted in significant destruction, and led to the loss of thousands of lives, injuries, and missing individuals.