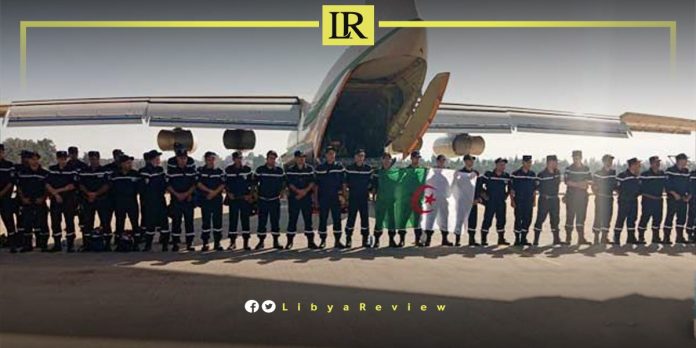 On Thursday, the Algerian Civil Protection Agency dispatched a new rescue team to the Libyan city of Derna, to continue the ongoing rescue and relief operations initiated 10 days ago. This is in collaboration with local and international teams.
This comes in response to the escalating crisis in Libya, in the wake of the destructive Mediterranean cyclone, Daniel that hit the eastern region of the country. Thousands of casualties including deaths, injuries, missing persons, and displaced individuals have been reported.
In a statement, the Algerian Interior Ministry articulated the decision to "rotate the current civil protection teams with new, equally specialized groups, harnessing the same resources and capabilities, to the storm-affected city."
Images of this newly mobilized team, consisting of diverse ranks and specializations, were shared by the Algerian Civil Protection Agency. These showed the team preparing for their journey to Libya from the Boufarik Military Airport, travelling via a military aircraft.
The move to refresh the teams, according to the Algerian Interior Ministry, is "in adherence to prevailing international norms," underscoring its commitment to "ensuring that the civil protection teams maintain their laudable humanitarian efforts with unabated vigour."
Earlier on 12 September, Algeria activated an airlift, utilizing eight hefty military planes, aiming to swiftly transport humanitarian assistance to Libya, countering the detrimental aftermath of the cyclone. By Wednesday evening, the Algerian relief team reported having recovered a total of 198 bodies, in the beleaguered city of Derna.
On 10 September, a devastating storm swept through several eastern regions of Libya, notably the cities of Derna, Benghazi, Al-Bayda, Al-Marj, and Sousse. This resulted in significant destruction and led to the loss of thousands of lives, injuries, and missing individuals.
UN Secretary-General, Antonio Guterres called a flood that killed thousands in Derna, Libya a "symbol of the world's ills."
"Even as we speak now, bodies are washing ashore from the same Mediterranean sea where billionaires sunbathe on their super yachts," Guterres said in the opening of the 78th session of the United Nations General Assembly, on Tuesday.
"Derna is a sad snapshot of the state of our world – the flood of inequity, of injustice, of inability to confront the challenges in our midst," he added.