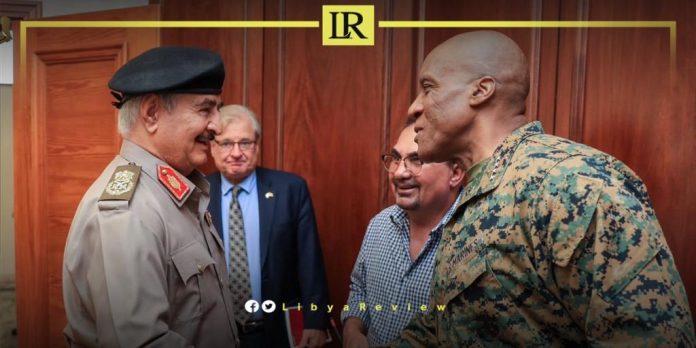 On Thursday, the General Commander of the Libyan National Army (LNA) Field Marshal Khalifa Haftar received US Africa Command's (AFRICOM) Head, General Michael Langley in Rajma.
The meeting was also attended by the US Special Envoy to Libya, Richard Norland, and Jeremy Berndt, the acting Chargé d'Affaires.
During the meeting, General Langley recognized the pivotal role of the LNA, in the fight against terrorism, spotlighting the stability achieved in eastern and southern Libya.
Expressing solidarity, the delegation conveyed condolences to Haftar and the Libyan people for the lives lost in the recent floods affecting the Green Mountain and eastern regions. Langley further assured support, committing to provide vital medical and relief aid to those impacted by the natural calamity.
Highlighting the core agenda of their meeting, discussions centered on enhancing joint cooperation, in combating extremist organizations.
The US. team made their way to Tripoli, where they met with Prime Minister Abdel-Hamid Dbaiba. As well as General Mohamed Hadad, Chief of General Staff, and Mohamed Al-Mnifi, Head of the Presidential Council.
On 10 September, a devastating storm swept through several eastern regions of Libya, notably the cities of Derna, Benghazi, Al-Bayda, Al-Marj, and Sousse. This resulted in significant destruction and led to the loss of thousands of lives, injuries, and missing individuals.
UN Secretary-General, Antonio Guterres called a flood that killed thousands in Derna, Libya a "symbol of the world's ills."
"Even as we speak now, bodies are washing ashore from the same Mediterranean sea where billionaires sunbathe on their super yachts," Guterres said in the opening of the 78th session of the United Nations General Assembly, on Tuesday.
"Derna is a sad snapshot of the state of our world – the flood of inequity, of injustice, of inability to confront the challenges in our midst," he added.