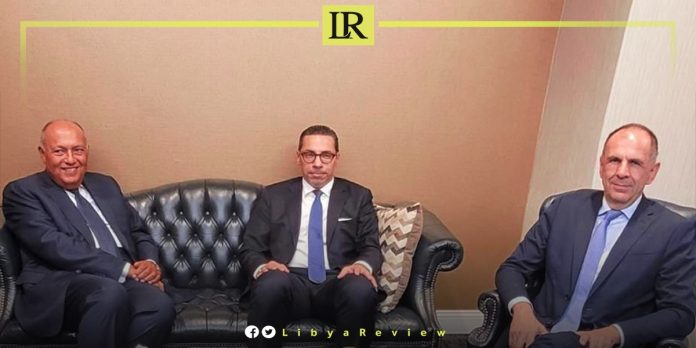 On the sidelines of the high-level segment of the 78th Session of the United Nations (UN) General Assembly in New York, a ministerial meeting took place on Friday, representing the trilateral cooperation mechanism between Egypt, Greece, and Cyprus.
The gathering saw the participation of the Egyptian Minister, Sameh Shoukry, alongside his Greek counterpart, Giorgos Gerapetritis, and Cypriot representative, Konstantinos Kombos.
Ahmed Abu Zeid, the official Spokesperson and the Director of Public Diplomacy, revealed that the meeting witnessed intensive discussions about recent developments in regional and international issues of mutual interest.
The focus was on strategies to intensify consultations and coordination in support of regional stability and security.
The discussions revolved around the Libyan crisis and the support for the 6+6 Joint Committee to complete Libya's constitutional process. They also discussed developments in the Syrian file, the crisis in Sudan, efforts related to the Sudan neighbouring countries' mechanism, and the situation in Palestinian territories. The emphasis was on peace process rejuvenation efforts.
To conclude, the Ministers agreed to continue their coordination and consultations in the upcoming phase. Their aim is to ensure the continuation of the trilateral cooperation pathway and maintain close coordination on various international as well as regional platforms concerning issues pivotal to the region's stability.
Italian Foreign Minister, Antonio Tajani and his Egyptian counterpart, Sameh Shoukry discussed the latest developments in Libya during a meeting on the sidelines of the UN General Assembly in New York.
During the meeting on Wednesday, the two exchanged views and perspectives on several regional and international issues of interest, with a particular focus on Libya.
The Egyptian Foreign Ministry stated that Shoukry "affirmed the importance of the completion of the work of Libya's 6+6 Joint Committee. This is to pave the way for free, fair, and simultaneous presidential and parliamentary elections."
On the 10th of September, a devastating storm swept through several eastern regions of Libya, notably the cities of Derna, Benghazi, Al-Bayda, Al-Marj, and Sousse. This resulted in significant destruction and led to the loss of thousands of lives, injuries, and missing individuals.
The UN Secretary-General, António Guterres, called a flood that killed thousands in Derna, Libya a "symbol of the world's ills."
"Even as we speak now, bodies are washing ashore from the same Mediterranean sea where billionaires sunbathe on their super yachts," Guterres said in the opening of the 78th session of the UN General Assembly, on Tuesday.
"Derna is a sad snapshot of the state of our world – the flood of inequity, of injustice, of inability to confront the challenges in our midst," he added.