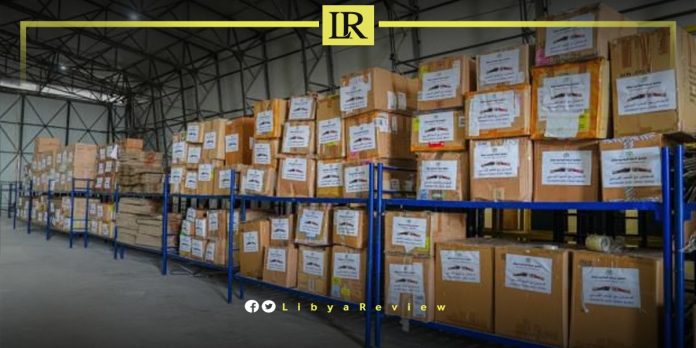 In a show of unyielding support for flood-affected Libyans in Derna, Malta's Ministry of Home Affairs, Security Reforms, and Equality is joining hands with the local Muslim community to deliver essential humanitarian aid.
In a statement, the Department of Information revealed that essential supplies, including food and clothing, have been securely housed at the Ħal Far Open Centre, and are earmarked for rapid distribution.
During an insightful visit to the center, Byron Camilleri, the acting Maltese Minister for Home Affairs, alongside Imam Mohammed Elsadi and AWAS Chief Clayton Xuereb, appreciated the swift collection of a considerable volume of aid supplies.
Acting promptly on Elsadi's appeal, Camilleri reaffirmed the Maltese government's commitment to standing by Libya, especially Derna, in its hour of need. He shed light on the timely interventions undertaken by Malta, from the Civil Protection Department's search and rescue missions, to the assistance rendered by the Armed Forces of Malta in Derna.
Drawing attention to Malta's broader pledge, Camilleri referenced Prime Minister Robert Abela's recent remarks at the United Nations General Assembly. He championed increased international aid for Libya, underscoring its urgent necessity.
Expressing deep appreciation, Elsadi spotlighted Libya's longstanding support to Malta's Muslim community. He emphasized the significance of Malta's current relief operations, as a reciprocal gesture of goodwill. Furthermore, he lauded the Maltese government's unwavering backing post the flood disaster, and applauded AWAS for its central role in orchestrating the humanitarian efforts.
On 10 September, a devastating storm swept through several eastern regions of Libya, notably the cities of Derna, Benghazi, Al-Bayda, Al-Marj, and Sousse. This resulted in significant destruction and led to the loss of thousands of lives, injuries, and missing individuals.
Notably, the International Organisation for Migration (IOM), revealed that the recent floods in northeastern Libya, have forced an estimated 43,059 individuals to flee their homes.
In a recent report, the IOM said the scarcity of water supply has been a driving factor behind the displacement of many residents from Derna. This shift has contributed to a decrease in the overall number of displaced individuals, within Derna itself.