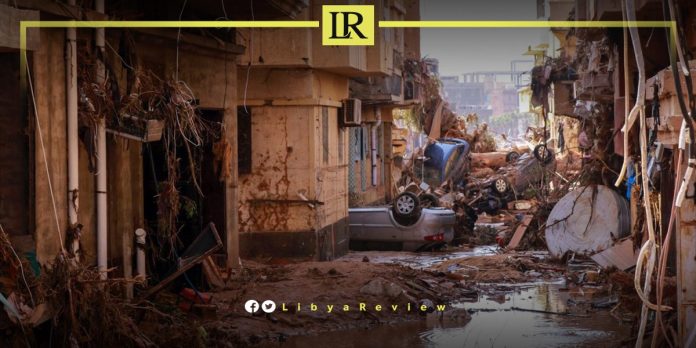 A Libyan official has said that about 40% of livestock in the flood-affected areas, in the country's northeast have perished.
Salah Abu Mbarka, the Director of the Animal Wealth Department in the Al-Jabal Al-Akhdar region, said in a press statement that the agency has documented approximately 13 poultry sheds in ruins, the loss of 7,000 sheep and goats, 1,500 camels, and the death of 2,000 cattle.
He pointed out that the livestock are scattered throughout the affected areas, emitting a strong odour, which poses potential health risks to citizens.
"This catastrophe will lead to a significant crisis in eggs and poultry, resulting in a surge in meat prices," he noted.
He added that the government has assigned the Animal Wealth Department the task of forming a committee to assess the damage to livestock, south of Al-Bayda.
Abu Mbarka urged citizens to file official reports at police stations. The committee will submit its final report to the government next week.
He also called on the government to expedite compensation for the affected individuals, to safeguard the livestock industry.
On 10 September, a devastating storm swept through several eastern regions of Libya, notably the cities of Derna, Benghazi, Al-Bayda, Al-Marj, and Sousse. This resulted in significant destruction and led to the loss of thousands of lives, injuries, and missing individuals.
The Secretary-General of the United Nations Antonio Guterres has called a flood that killed thousands in Derna, Libya a "symbol of the world's ills."
"Even as we speak now, bodies are washing ashore from the same Mediterranean sea where billionaires sunbathe on their super yachts," Guterres said in the opening of the 78th session of the UN General Assembly, on Tuesday.
"Derna is a sad snapshot of the state of our world – the flood of inequity, of injustice, of inability to confront the challenges in our midst," he added.
The International Organization for Migration (IOM) announced that the floods in northeastern Libya have forced an estimated 43,059 individuals to flee their homes.