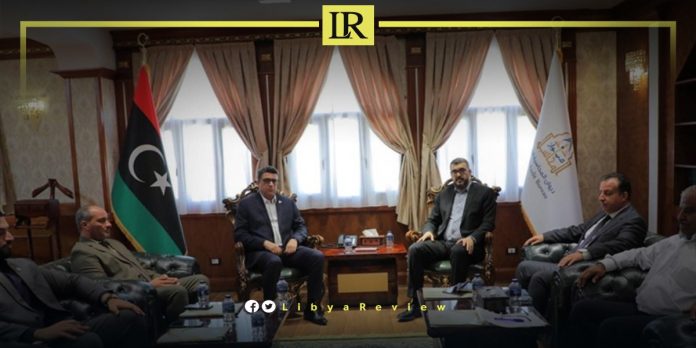 On Tuesday, the Head of the Libyan Audit Bureau, Khaled Shakshak, met with Badr Al-Din Al-Toumi, Minister of Local Governance and Head of the government's Emergency and Rapid Response Team. During their discussions, Shakshak emphasised the need to set forth transparent and unequivocal standards for the task force's operations, and underscored the importance of streamlining funding sources.
Shakshak also clarified that these measures would "empower the Audit Bureau to enforce more efficient financial oversight, ensuring that expenditures are purposeful and the current crisis isn't misused."
He added that this refined approach aims to "alleviate the suffering of those in disaster-stricken regions, by addressing their immediate necessities more effectively."
Furthermore, Shakshak called on the government to "escalate its efforts in resolving pressing issues related to the crisis, with a spotlight on vital areas such as education, healthcare, and water resources."
Al-Toumi, in response, affirmed the Emergency Team's dedication to embracing the insights from the Audit Bureau, recognising its instrumental role in identifying and overcoming various obstacles.
This call to action underscores the need for transparent governance and integrated funding solutions, to better serve those impacted by crises.
On 10 September, a devastating storm swept through several eastern regions of Libya, notably the cities of Derna, Benghazi, Al-Bayda, Al-Marj, and Sousse. This resulted in significant destruction and led to the loss of thousands of lives, injuries, and missing individuals.
The UN Secretary-General, António Guterres, called a flood that killed thousands in Derna, Libya a "symbol of the world's ills."
"Even as we speak now, bodies are washing ashore from the same Mediterranean sea where billionaires sunbathe on their super yachts," Guterres said in the opening of the 78th session of the UN General Assembly, on Tuesday.
"Derna is a sad snapshot of the state of our world – the flood of inequity, of injustice, of inability to confront the challenges in our midst," he added.