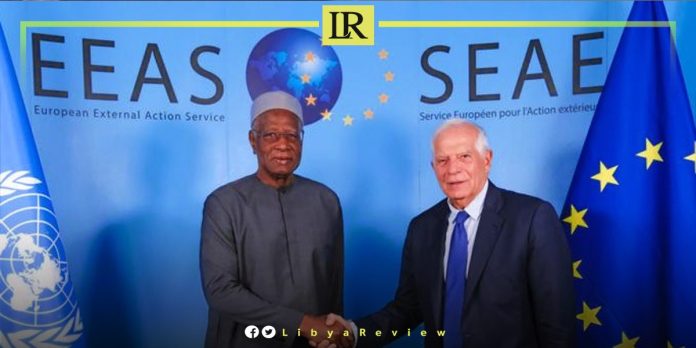 The United Nations Special Envoy to Libya, Abdoulaye Bathily, emphasised the urgent need for the European Union, and international partners to speak with a united voice in supporting the political process in Libya. This unity, Bathily stressed, is "crucial to ensure the preservation of Libya's territorial integrity and unity."
During his meeting with the EU's High Representative for Foreign Affairs and Security Policy, and Vice-President of the European Commission, Josep Borrell, Bathily accentuated the importance of "maximum accountability in the management of reconstruction resources." The envoy called for a "joint assessment of the reconstruction needs, in areas affected by recent storms and flooding in eastern Libya."
Reiterating the aspirations of the Libyan people for peace and stability, Bathily renewed his call for comprehensive elections. He emphasised that these elections would "bring legitimacy to Libya's political, military, and security institutions, aiming for their reunification."
Furthermore, the UN Envoy shared, "In continuation of my consultations with the EU today in Brussels, I exchanged views with the Political and Security Committee. We discussed the political process and the impact of storm Daniel."
The discussion underscores the ongoing international commitment to Libya's stabilization, and the emphasis on a collaborative approach to address the nation's multifaceted challenges.
Notably, the Director-General of the World Health Organization (WHO), Tedros Adhanom Ghebreyesus has expressed deep concern over the healthcare situation in Libya.
He added that WHO is "actively collaborating with local authorities to ensure that the population can access essential health services, including crucial psychosocial support, despite ongoing challenges."
Libya has faced numerous challenges in recent years, including conflict and political instability. These have significantly impacted its healthcare infrastructure.
He stressed that WHO is "committed to working closely with Libyan officials to address these challenges, and provide vital support to the population."
One of the key areas of focus for WHO is strengthening the disease early warning system. This initiative aims to enhance the country's ability to detect early signs of potential water or food-borne diseases, and other health threats.