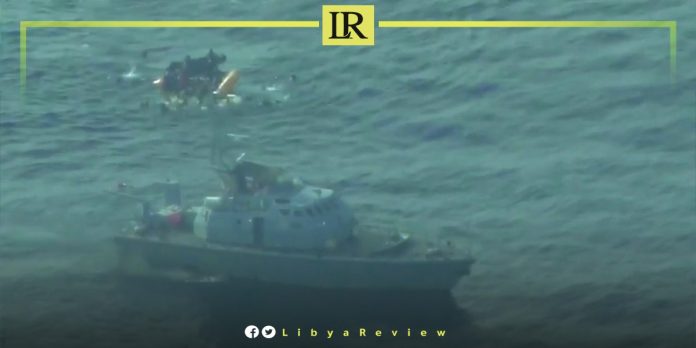 A horrifying episode unfolded in the Mediterranean, when a migrant vessel was allegedly rammed and sunk by the Libyan Coast Guard. This prompted an outcry, and left dozens of passengers floundering in open waters, with several missing.
A compelling video, shot by the humanitarian organization Sea-Watch, showcases the incident off the coast of Benghazi. The city now finds itself at the epicenter of international attention and scrutiny, regarding migrant voyages.
The gripping footage reveals the tragic descent of an inflatable boat, packed with migrants into the depths, with a Libyan ship in perilous proximity.
Sea-Watch's helicopter visuals display dozens of individuals battling the turbulent seas, with tire inner tubes—employed as makeshift life preservers by the migrants—visibly bobbing in the water.
According to a spokesperson from Sea-Watch: "A unit of the so-called Libyan Coast Guard deliberately collided with and precipitated the sinking of a dinghy, crammed with at least 50 people."
They added, "Some of them were definitively apprehended and returned to Libya against their will. The survivors' current location remains unknown."
The doomed vessel was one of several that left that day, charting a course for the Italian islands, and once again spotlighting Libya as a crucial, albeit contentious, pivot in the ongoing migrant crisis.
The Mediterranean, notorious for its treacherous high winds, had inhibited the navigation of migrant boats for the past week. This is especially true since the island of Lampedusa, Italy, saw the arrival of more than 11,000 migrants.
Earlier on Friday, Lampedusa witnessed the arrival of three more migrant vessels, bearing around a hundred in search of solace and safety.
On Thursday, the United Nations High Commissioner for Refugees (UNHCR) announced that approximately 186,000 individuals have successfully reached Europe, via the Mediterranean sea this year.
Ruven Menikdiwela, the Head of the UNHCR's New York office, informed the UN Security Council that about 130,000 of these arrivals were registered in Italy. This number represents an 83% increase, compared to the same period in the previous year. Tragically, more than 2,500 individuals have been reported missing or deceased, since the beginning of the year through to 24 September.
Menikdiwela highlighted that over 102,000 people attempted the perilous journey from Tunisia, a staggering 260% rise from last year. Additionally, more than 45,000 tried to cross from Libya. Beyond Italy, boats also made their way to Greece, Spain, Cyprus, and Malta.
The recent surge in migrant numbers has instigated tensions within the European Union, regarding measures to mitigate the influx.