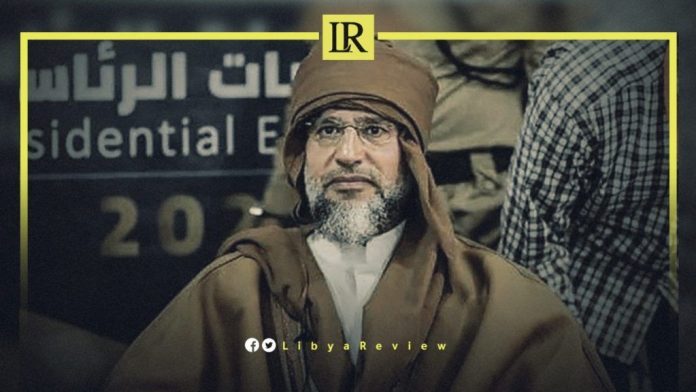 Libyan Presidential candidate, Saif Al-Islam Gaddafi, the son of the late Libyan leader Muammar Gaddafi, has hailed the election laws recently endorsed by the Libyan Parliament.
In a statement, Saif Al-Islam commended the efforts of Parliament Speaker, Ageela Saleh and the members of the 6+6 Joint Committee which is responsible for drafting the election laws. He thanked them for their "dedication to crafting electoral laws that do not exclude any candidate, despite the significant pressures and challenges they faced during the process."
"This accomplishment was achieved despite all the pressures, threats, and temptations, and it marks the commencement of a new phase in Libya's history," he added.
Libyan Parliament unanimously passed laws for the Presidential and Parliamentary elections, according to Spokesman, Abdullah Blaiheg.
The legislation was prepared by the 6+6 Joint Committee, which consists of MP's and members of the High Council of State (HCS).
During the session in Benghazi, the House Speaker, Ageela Saleh announced that he had received the election laws from MP, Jalal Al-Shuaybi.
Saleh confirmed that these laws, in accordance with constitutional amendments, are inclusive and do not exclude any eligible candidates, whether civilian or military.
He further revealed that anyone who does not succeed in the elections, can return to their previous position.
Saleh praised the Joint Committee for achieving this milestone, and stated that it lays the foundation for consolidating authority in the country. He added that the laws are fulfilling the Libyan people's desire for elections.
Last month, the US Special Envoy to Libya, Ambassador Richard Norland affirmed Washington's ongoing support for the High National Elections Commission (HNEC), in preparing for the upcoming elections.
"We continue to support the efforts of the High National Elections Commission in preparing for the elections. We have full confidence in its ability to conduct both national and municipal elections," Norland said according to the US Embassy.
The US and France publicly voiced their support for Bathily's ongoing mediation, urging the establishment of a technocratic, and unified government to facilitate forthcoming elections. This international backing was confirmed during a meeting that involved Norland, and Paul Soler, France's Special Envoy to Libya.
Bathily met with HNEC Head, Emad Al-Sayeh in September, to discuss the progress of the electoral process in the country.
The two sides emphasised the critical need for a comprehensive and implementable legal framework for elections.
They also highlighted the role of HNEC in providing advice on electoral matters, in the legislative process.