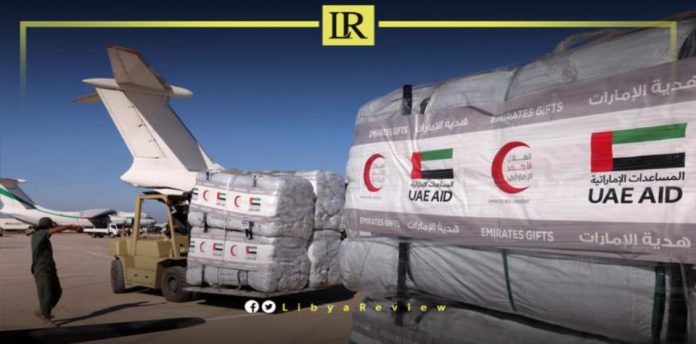 The United Arab Emirates has implemented an airlift operation involving 37 aircraft, carrying relief supplies destined for the cities of eastern Libya that were struck by Storm Daniel on 10 September.
The airlift delivered 815 tons of food, shelter materials, medical aid, and essential supplies to the worst-hit areas. This assistance aims to help approximately 7,342 families, affected by the disaster.
From the outset of the catastrophe, the UAE mobilized significant resources, including rescue teams and relief aid to assist Libya, offering condolences to the victims' families.
On 11 September, Sheikh Mohammed bin Zayed Al Nahyan, President of the UAE, issued directives to send urgent humanitarian aid and search-and-rescue teams to Libya to address the consequences of severe flooding caused by heavy rains in eastern Libyan cities.
President bin Zayed expressed his condolences to Libya's government and people, praying for the victims and their families and wishing a speedy recovery for the injured.
Bin Zayed made phone calls to Commander-in-Chief of the Libyan National Army (LNA) Field Marshal Khalifa Haftar, and Prime Minister of the Government of National Unity (GNU) Abdel-Hamid Dbaiba, extending condolences for the flood victims.
Haftar and Dbaiba expressed their gratitude and appreciation for the support. They also lauded the UAE's consistent and genuine brotherly stances towards the Libyan people, under various circumstances.
The UAE reaffirmed its solidarity with Libya during these challenging times, providing various forms of support to enhance Libya's efforts in dealing with this crisis.
The UAE's Ministry of Foreign Affairs expressed its sincere condolences and sympathy to the victims, wishing a swift recovery for all those injured.
On 12 September, the Burj Khalifa tower in Dubai was illuminated with the colours of the Libyan flag, displaying a message that read, "From the people of the UAE to Libya and its fraternal people, our hearts and minds are with you. May Allah protect Libya and its people."
Sheikh Mohammed bin Rashid Al Maktoum, Deputy President of the UAE, Prime Minister, and Ruler of Dubai, directed the dispatch of urgent humanitarian aid from Dubai's International Humanitarian City, to assist those affected in Libya.
Rescue and relief teams, equipped with modern machinery and equipment to support difficult tasks, moved swiftly to participate in search and rescue operations.
These relief efforts saw the participation of various institutions, including the UAE Red Crescent Authority, the Zayed bin Sultan Al Nahyan Charitable and Humanitarian Foundation, the Khalifa bin Zayed Al Nahyan Foundation for Humanitarian Works, and the Mohammed bin Rashid Al Maktoum Charitable and Humanitarian Foundation.