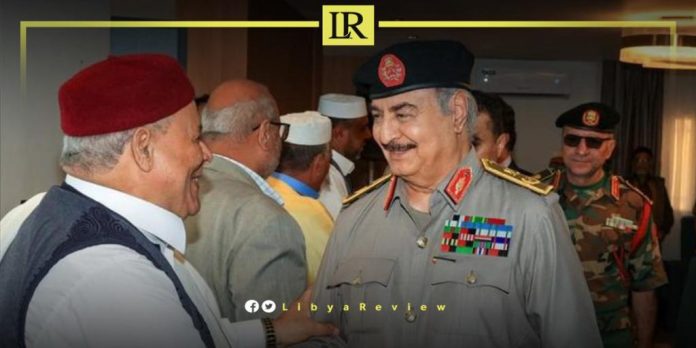 The Commander-in-Chief of the Libyan National Army (LNA), Field Marshal Khalifa Haftar offered condolences to the families of flood victims in the city of Derna.
During his meeting with notables and sheikhs of the Jabal Al-Akhdar region, Haftar stressed the LNA's insistence on rebuilding the city as soon as possible. He also stressed the need to maintain social cohesion, and confront strife.
Haftar praised the efforts of the army, civil authorities, and local and international rescue teams that contributed to dealing with the crisis.
Earlier, Haftar inaugurated the "Libya Build" exhibition, being held at Benina International Airport, Benghazi.
During his visit, Haftar toured the booths of participating both local and international companies, to explore the wide range of products and services.
Haftar expressed his sincere gratitude to all companies, and commended them for accepting the invitation to join this event. He extended his best wishes for their success and prosperity.
The exhibition serves as a platform for companies to showcase their products and services, fostering opportunities for business development and cooperation in Libya's growing market.
In another context, the Libyan Parliament-designated government announced that it has postponed a reconstruction conference for the flood-hit city of Derna, which had been planned for 10 October.
The committee in charge said in a statement that the conference was put off until 1-2 November to "offer time for the submission of effective studies and projects for the reconstruction effort," according to the Associated Press.
In September, the government invited the international community to attend the conference in Derna, where a flash flood devastated large areas, and killed thousands.
The authorities later said the conference would draw in international companies. On Sunday, the committee said the postponed event would be held in both Derna, and Benghazi.
According to Saqr Al-Jibani, Head of the organising committee, the decision to hold off on the event followed requests by mayors of affected communities, as well as business representatives who had expressed interest in attending.
On 10 September, a devastating storm swept through several eastern regions of Libya, notably the cities of Derna, Benghazi, Al-Bayda, Al-Marj, and Sousse. This resulted in significant destruction and led to the loss of thousands of lives, injuries, and missing individuals.