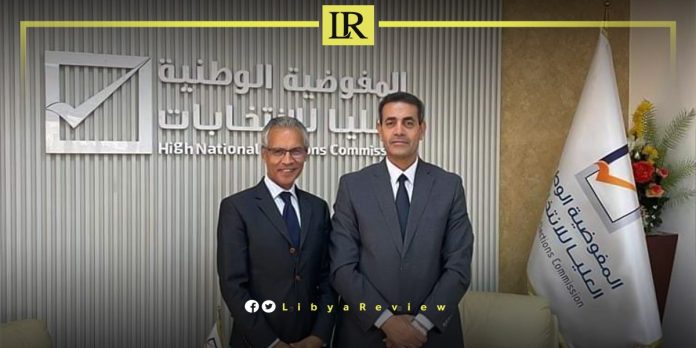 French Ambassador to Libya, Mostafa Mihraje held a strategic meeting with Emad Al-Sayeh, the Head of Libya's High National Elections Commission (HNEC). They focused on holding forthcoming elections characterized by freedom, fairness, transparency, and integrity
The French Embassy conveyed Ambassador Mihraj's assurances to Al-Sayeh, affirming France's steadfast support for HNEC. This meeting does not merely signify diplomatic exchanges, but resonates as an endorsement of Libya's pathway towards constructing a democratic framework, enriched by international cooperation.
Last month, the General Commander of the Libyan National Army (LNA), Field Marshal Khalifa Haftar met with Mihraje in Benghazi.
The meeting, which was also attended by the French military attaché, touched on the devastating aftermath of storm Daniel, which hit the country in early September.
Mihraje affirmed France's profound solidarity with Libya, both its leadership and citizens, during these tumultuous times marked by severe flooding.
Reiterating France's proactive stance, the Ambassador pledged France's hands-on involvement in aiding search and rescue operations, and dispensing medical services to those affected in the Green Mountain regions.
Libya has been in chaos since a NATO-backed uprising toppled longtime leader Muammar Gaddafi in 2011. The county has for years been split between rival administrations, each backed by rogue militias and foreign governments.
The current stalemate grew out of the failure to hold elections in December 2021, and the refusal of Prime Minister Abdel-Hamid Dbaiba, who is leading the transitional government, to step down. In response, the country's eastern-based Parliament appointed a rival Prime Minister, Fathi Bashagha, who has for months sought to install his government in Tripoli.