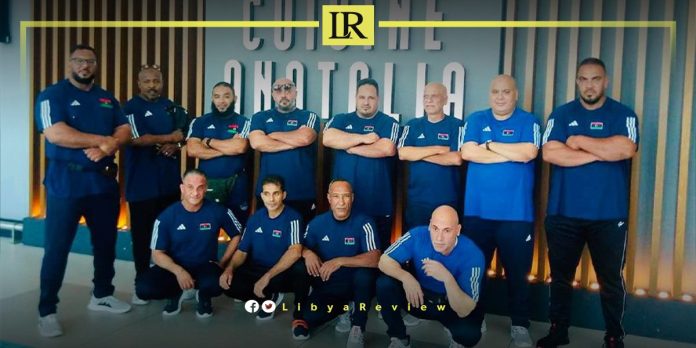 Libya is set to embark on a compelling journey at the World Physical Strength Championship, unfurling its participation on the global stage in Mongolia. With the championship kicking off Sunday, the national team is gearing up to present a formidable lineup.
The Libyan team is stepping into the international competition with a delegation of 10 athletes, each prepared to demonstrate unyielding physical strength and strategic prowess in their respective categories. Seasoned athletes, including Omar Shbeik, Akram Al-Bouaishi, Mohammad Al-Khazali, and Alaa El-Din Al-Sheikhi, will represent the nation in the masters' category for ages above 40.
In the above 50 masters' category, athletes Abdullah Abushaala, Ashraf Al-Falah, Adel Sultan, Abdulhakim Al-Dalfaqa, and Khaled Al-Kharif will vie for honors, showcasing Libya's sustained commitment to excellence in physical fitness and sportsmanship.
In addition, Ibrahim Madi stands as the sole representative in the masters' category for competitors above 60, symbolising endurance and seasoned expertise in the arena of physical strength competitions.
Libya's participation in the World Physical Strength Championship not only underscores its dedication to the sport but also positions it within an international context. This as its athletes vie against global counterparts, shining a light on the country's talents and capabilities.
Stay tuned for updates as Libya steps into the limelight on the world stage, and the athletes strive to bring honor and accolades to their homeland.
In August, Libyan athletes secured gold, silver, and bronze medals at the Dubai 2023 World Para Powerlifting.
One of the players, Tif Osman, triumphed by winning the gold medal in the 49-kilogram weight category after fierce competition against eight athletes.
On the other hand, athlete Aswa Abdulwahab secured the bronze medal, finishing in fourth place in the 50-kilogram weight category for women.
Expressing her gratitude, Abdulwahab extended her thanks to coach, Captain Omar Shabik, for his "tremendous efforts in achieving this level of success, despite the challenging circumstances faced by the sport due to the lack of support in the country."
The championship was characterised by the participation of rising stars in the field of powerlifting from various countries, with 58 emerging lifters competing in the youth categories.
The World Powerlifting Championships for Adults kicked off on Wednesday, where world champions and Paralympians will compete across different categories, over eight days.