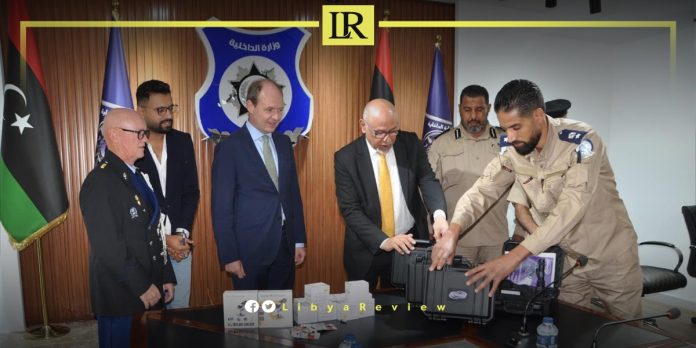 The Netherlands has delivered specialized devices and equipment to Libya's Ministry of Interior, aimed at detecting forgery and counterfeiting of secure documents. The handing over took place on Monday between Nouraldin Abubakr Abujreida, Director of the Department of Relations and International Cooperation, and Joost Klarenbeek, the Dutch Ambassador to Libya.
The meeting, attended by representatives from the Passport, Nationality and Foreign Affairs Service, the General Administration of Training, the Supply Affairs Department, and the International Cooperation Office at the Department of Relations and International Cooperation, discussed various avenues of bolstering bilateral ties.
They also discussed enabling collaboration in the realm of security preservation, combating crimes, and potentially inking a security cooperation agreement between Libya and the Netherlands.
Moreover, preparations to hold training sessions in November were discussed, showcasing a commitment towards enhancing bilateral relations and collaborative efforts in the security domain.
In June, a delegation from the Central Bank of Libya (CBL), headed by Al-Siddiq Al-Kabir, discussed the bank's efforts to combat money laundering and terrorism financing, with the Executive Director of the IMF.
This discussion signifies a positive development in Libya's financial sector, and demonstrates the ongoing commitment to enhance professional development and ensure financial transparency in the country. It also marks a step forward in Libya's engagement with international partners to advance the country's economy.