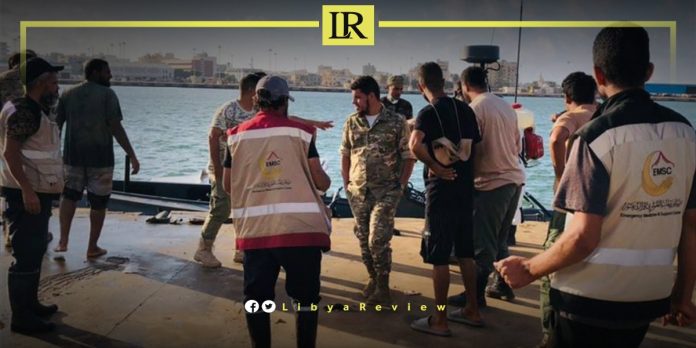 Mohamed Kablan, the director of the Emergency and Support Center in Tripoli, reported that teams from the center have retrieved 14 bodies from various areas around the city of Derna, in the past 48 hours.
Kablan explained that the bodies were recovered from the regions of Wadi Al-Khabta, Al-Himsa, and Umm Al-Barikat, located to the east of Derna. He added that they were transported to the Unity Hospital, to complete the necessary legal procedures for burials.
He also noted that the efforts to recover the bodies are being carried out simultaneously with healthcare teams, providing services to 328 individuals. Additionally, there are established checkpoints in nine locations, distributed at the entrances, exits, and central areas of Derna, as well as in the areas of Murtuba and Ras Al-Hilal.
Notably, the United Nations confirmed that a coalition of 21 humanitarian organisations has delivered crucial aid to over 125,000 individuals affected by a severe cyclone in eastern Libya.
Out of a total of 250,000 people requiring assistance in the afflicted areas, approximately half have been catered to, as reported by OCHA.
The report, covering the period from 29 September to 2 October, was disseminated through OCHA's official website. It emphasised the ongoing supportive actions of the organisations in areas that were hard-hit by the cyclone.
Additionally, international search and rescue teams from Turkey, Egypt, and the UAE continue their operations, with the city of Derna experiencing the most severe impacts from the disaster.
OCHA's report elaborated that humanitarian partners are amplifying their efforts in collaboration with international organisations. This includes seven agencies affiliated with the UN and 14 NGO's, both local and international.
The support extends across the affected regions in Libya, as relief efforts persist in response to the catastrophe.
The International Organisation for Migration (IOM) issued an urgent plea to amplify donor funding, aiming to escalate early recovery efforts in the most affected areas. A staggering $22 million dollars is the anticipated financial requirement to expedite these critical initiatives, with only approximately 30% of the sum currently secured.
Amy Pope, the Director General of IOM, underscored the magnitude of humanitarian needs in the region. "The realms ravaged by the storm present a panorama of massive humanitarian requirements," Pope articulated.
Over 80 IOM personnel, situated in northeast Libya, are engaging meticulously with both national and international allies to navigate the crisis response. Moreover, the UN's Rapid Response Mechanism has been activated, coordinating a response to ensure that relief items reach impacted communities with alacrity.
The IOM, aligning with other UN affiliates, urgently beckons Libyan national and local authorities, alongside international collaborators, to forge a consolidated national mechanism. This will steer recovery and reconstruction efforts with a firm commitment to transparency and accountability, founded on a rigorous and impartial appraisal of circumstances and needs onsite.