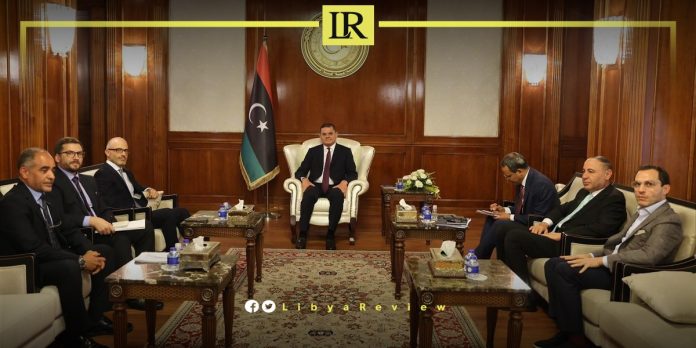 The European Union's Ambassador to Libya, Nicola Orlando has affirmed the union's unwavering support for Libya's stability and development.
In a crucial discussion with the Prime Minister of the Government of National Unity (GNU) Abdel-Hamid Dbaiba, they discussed the concerted efforts between the EU and Libya. Their talks encompassed providing technical support on migration, and cooperation in the field of renewable energies. This dialogue aligns with previous agreements established with the EU's Foreign Relations Officer, Josep Borrell.
The dialogue underscores the persistent issues of illegal migration, and bolsters the alliance in the renewable energy sector, adhering to previously settled agreements. The EU, recognizing the mutual benefits, continues to prioritize its collaboration with Libya in these areas.
Moving forward, the EU accentuated its support for Libya, as the nation embarks on conducting elections. Orlando reiterated his commitment to assisting Libya in stabilising, head towards elections, and solidify its democratic processes. These impending elections signify a monumental step towards establishing a more secure, and democratically stable Libya.
The EU's assurance also extends to enhancing security and economic cooperation with Libya. This bilateral alliance aims at nurturing a fortified economic and security framework, emphasizing the importance of a stable and economically thriving Libya, not only for the country itself, but also for the EU.
Earlier this month, Borrell stated that the current exceptional circumstances in Libya, "may create favourable conditions for a national dialogue about the country's future."
He affirmed the EU's readiness to support this dialogue, "in any way possible if Libyan parties decide to proceed under the auspices of the United Nations."
In an article titled "Helping Libya After Darna," published on the European Union's diplomatic service website, Borrell pointed out his recent meeting with Abdoulaye Bathily, the Special UN Envoy to Libya.
He said the meeting "provided an opportunity to assess the ongoing political crisis in a country that, despite its immense potential wealth. Libya has recently suffered a devastating natural disaster linked to climate change and neglect."
Borrell pointed out that Libya has been in a state of chaos since 2011, with deepening traditional divisions between Tripoli in the west, and Benghazi in the east, exacerbated by foreign interference.