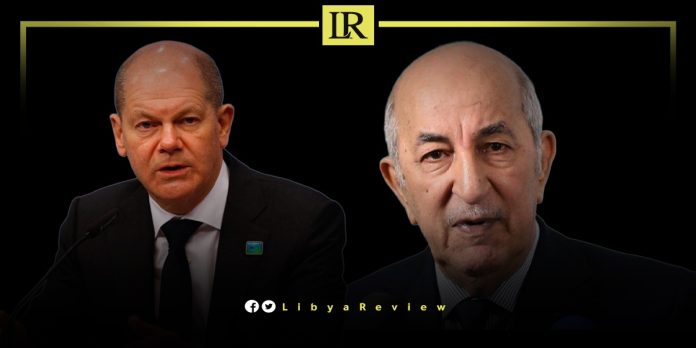 On Wednesday, Algerian President, Abdelmadjid Tebboune and German Chancellor, Olaf Scholz, held an important telephone discussion, focusing extensively on the ongoing crisis in Libya and its impact on the stability of North Africa, and consequential European geopolitical influences.
The two leaders thoroughly examined various facets of bilateral relations, exploring pathways to fortify connections across diverse domains, such as the energy and industrial sectors.
However, the discussion notably pivoted to address regional and international matters of shared concern, with a pronounced emphasis on the crisis unraveling in Libya, extending further to the Sahel region, and the Middle East.
While highlighting the deep historical and multi-dimensional aspects of Algerian-German relations, the discussion also delved into issues of considerable significance to both nations.
Libya, which is currently navigating through an internal conflict, became the central point of the conversation, considering its geopolitical significance, and the impact it has on regional and international stability and security.
Both leaders recognised the critical importance of sustaining stability in Libya, highlighting its substantial effect on a variety of regional developmental, and peace-oriented frameworks.
This dialogue between Algeria and Germany emphasises the crucial role of international unity and cooperation, in influencing and shaping outcomes in Libya, and other geopolitically relevant areas. Also, it underscores the proactive diplomatic efforts by leaders to strategically navigate through the multifaceted complexities of contemporary international relations.
Libya has been in chaos since a NATO-backed uprising toppled longtime leader Muammar Gaddafi in 2011. The county has for years been split between rival administrations, each backed by rogue militias and foreign governments.
The current stalemate grew out of the failure to hold elections in December 2021, and the refusal of Prime Minister Abdel-Hamid Dbaiba, who is leading the transitional government, to step down.