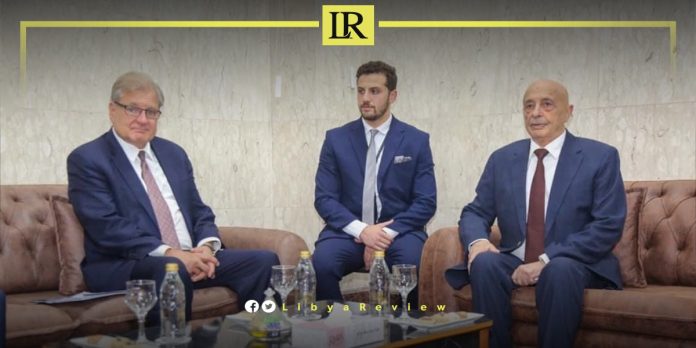 In a crucial dialogue unfolding within the Libyan political arena, Ageela Saleh, the Speaker of Libya's Parliament, engaged in discussion with Richard Norland, the United States Special Envoy to Libya. They discussed the latest developments in the nation's current political landscape.
In a statement, the Parliament's Spokesman Abdullah Blaiheg said that the meeting was attended by Jeremy Berndt, the Deputy Chief of the US Diplomatic Mission to Libya, and Anne Witkowsky, the Deputy Assistant Secretary of State for Conflict Operations and Stability.
During the talks, they discussed the "Parliament's efforts to date to establish a constitutional basis for elections." Saleh stressed the need for a unified government across the country to organize the elections, with results acceptable to all parties.
In turn, Norland asserted American support for the UN Secretary-General for Libya, Abdoulaye Bathily. As well as his efforts to secure a basis for elections this year.
Earlier today, the US delegation engaged in talks in Tripoli with a number of Libyan leaders, including Mohamed Al-Mnifi, the Head of Libya's Presidential Council, Abdel-Hamid Dbaiba, Prime Minister of the Government of National Unity (GNU), Mohammad Takala, the Head of the High Council of State (HCS), and Bathily
The meeting in Tripoli navigated through various aspects of the political process, exploring mechanisms to amplify support for UN initiatives. Especially focusing on the pivotal aim of facilitating Libyans in conducting democratic elections.
Furthermore, an essential part of the discussions encapsulated strategies for the reconstruction of the city of Derna, and other regions critically affected by recent floods, including the Jabal Al-Akhdar area and the city of Murzuq.