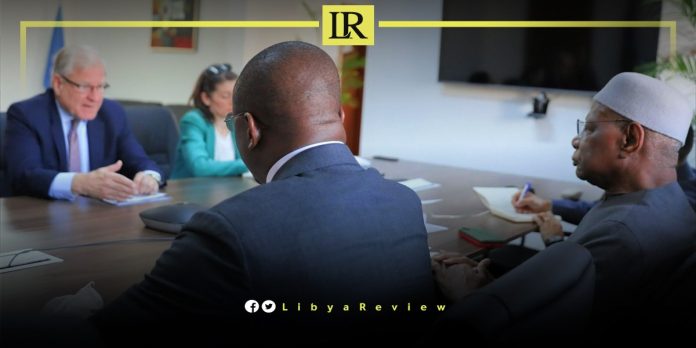 In a crucial meeting on Wednesday in Tripoli, the Special Representative of the UN Secretary-General (SRSG) for Libya, Abdoulaye Bathily, and US Special Envoy, Richard Norland discussed the current political and humanitarian situation in Libya, emphasising the critical condition in Derna.
Both envoys exchanged views, and stressed the urgent need for all Libyan authorities to respond collectively to the crisis in Derna, hoping to mitigate the ongoing humanitarian issues.
In addition, they discussed and found common ground regarding the electoral laws proposed by the Libyan Parliament, recognising them as a constructive resolution, especially for the 6+6 Joint Committee.
The two renewed their call to Libyan leaders, urging a unified effort to pave the way for comprehensive, free elections, and to solve remaining issues related to political disputes and upcoming elections.
As well as spotlighting the necessity for international cooperation and unity in Libyan matters, hoping to steer the region toward stability, democracy, and peace.
Libya has grappled with significant political unrest and instability since the overthrow and killing of its longtime leader, Muammar Gaddafi in 2011. In the subsequent power vacuum, the country plunged into chaos with various militias and factions vying for control.
The United Nations and other international actors have been actively engaged in trying to broker peace, and establish a unified, stable government. Various dialogues and initiatives have aimed to bring together the rival factions, and establish a unified path forward for the conflict-stricken nation.
On 10 September, eastern Libya experienced intense flooding that swept away entire neighbourhoods, leading to thousands of deaths and disappearances. Homes were submerged, and significant infrastructure damage was observed due to the Mediterranean storm, Daniel.