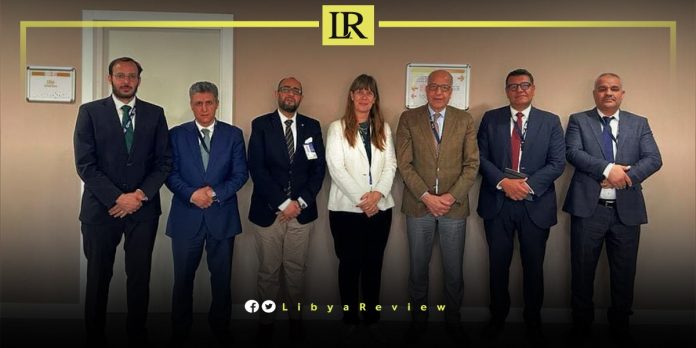 The Governor of the Central Bank of Libya (CBL), Al-Siddiq Al-Kabir met with the Executive Director for the Southern and Eastern Mediterranean region of the European Bank for Reconstruction and Development (EBRD), Heike Harmgart. A pivotal point of their discussion was the reconstruction of Derna, and other devastated regions.
They reviewed the EBRD's experience in rebuilding areas affected by earthquakes in Turkey, Morocco, and Kyrgyzstan. As well as outcomes from previous meetings in Warsaw and bank-managed programs, fostering local development. Furthermore, the potential applicability of these programs in Southern Libya was explored.
Discussions also covered Libya's membership in the European Bank, an effort initiated in 2013, bolstering Libya's contribution to decision-making within the bank, and revisiting the outcomes of the Libyan delegation's visit to the bank's headquarters in London last month.
Bank officials presented their institutional expertise in investing in solar energy, and financing opportunities the bank offers to the private sector. Especially in small and medium-sized projects, including those involving women and youth.
Additionally, leveraging the bank's experience in Egypt, and the EBRD's visit program to Libya during the first quarter of 2024 were discussed.
In another meeting held the same day, Al-Kabir met with the Governor of the Central Bank of Malta, Edward Scicluna. They discussed existing cooperation between the Libyan and Maltese Financial Information Units, in combating money laundering and terrorist financing, and compliance with European Union banking requirements.
These deliberations underline a concerted effort between Libya, and international entities to facilitate the nation's reconstruction and bolster its economic frameworks, looking to leverage external expertise and resources effectively.
Notably, Al-Kabir held talks with his Saudi counterpart, Ayman Al-Sayari on Friday, at the annual meetings of the IMF and World Bank.
During their meeting, the officials discussed potential areas of cooperation between their respective central banks. The meeting signals a noteworthy initiative towards fostering bilateral ties in the financial sector, amid global economic conversations.
Al-Sayari also met with Abdulrahman Mohammed Abdullah, the Governor of the Central Bank of Somalia, where they explored various topics.
The past decade has seen Libya navigating through tumultuous waters, with its economic and political systems undergoing substantial challenges. The country has been grappling with civil unrest, political instability, and conflicts, all of which have subsequently impacted its financial institutions and economic infrastructure.