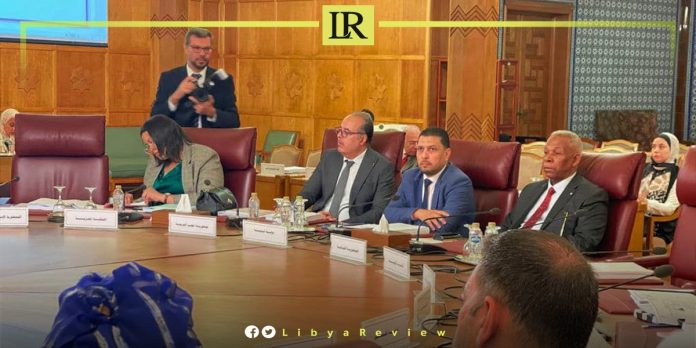 This December, Libya will host the 40th session of the Council of Arab Ministers of Housing and Reconstruction. Concurrently, it will welcome the 5th Arab Ministerial Forum on Housing and Sustainable Urban Development.
A delegation from the Ministry of Housing recently attended meetings in Cairo, with a focus on the executive office of the Council of Arab Ministers of Housing and Reconstruction, and its technical advisory committee.
The delegation was led by Khaled Mohammed Khaled, the Deputy Minister for Technical Affairs. He was joined by the Deputy Minister for Affected Regions, Abdul Mawla A'adouma Al-Mahdi, the Director of International Cooperation, and the Director of Research and Studies.
During these meetings, the delegation extended an invitation, urging all member states to participate in the upcoming ministerial forum.
Notably, a devastating storm swept through several eastern regions of Libya, on 10 September in the cities of Derna, Benghazi, Al-Bayda, Al-Marj, and Sousse. This resulted in significant destruction and led to the loss of thousands of lives, injuries, and missing individuals.
This was carried out under the directives of the Head of the High Committee for Emergencies and Rapid Response, Osama Hammad, who is also the Prime Minister.
The distribution took place at the Derna National Theater, on Thursday. The statement noted that this involved the first batch of compensation for approximately 106 individuals.
Notably, the International Organisation for Migration (IOM) has reported that approximately 43,421 individuals are still displaced in Libya, following storm Daniel.
In a statistical release issued on Friday, the IOM observed the movement of displaced families from Derna to western municipalities, accounting for 6% of the total displaced population from the city.
The majority of the displaced population, about 94%, remains in the municipalities of eastern Libya. The highest percentage of this population is found in Derna (38%), Benghazi (10%), Al-Bayda (10%), Shahat (9%), and Tobruk (8%).
Notably, the World Food Programme (WFP) has called for urgent funding of at least $6.5 million dollars to assist 100,000 people.
In a report, the WFP stated that it has delivered 131 tons of food supplies to 21,500 affected individuals in 11 disaster-stricken areas in eastern Libya to date.
The organisation emphasised its commitment to providing emergency food assistance through partners, including the Libyan Agency for Relief and Humanitarian Assistance.
The WFP highlighted severe disruptions in food supply chains, particularly in the city of Derna and its surroundings.
The United Nations-affiliated programme, stated that it has tapped into previously stocked food reserves, in collaboration with its partner, LibAid, to assist families directly affected by the Daniel catastrophe.
"We are working to expand the scope of support to reach 100,000 people in the most affected areas," it added.