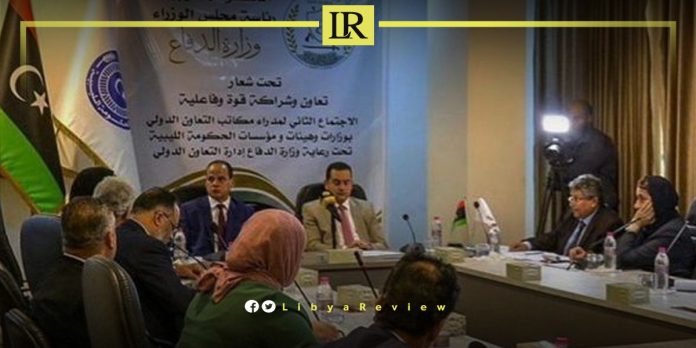 The Libyan Parliament-designated Defence Minister, Hamid Huma and Foreign Minister, Abdel-Hadi Al-Hwaij met on Tuesday for their second regular meeting under the theme, "Cooperation and Partnership: Strength and Effectiveness."
According to an update by the Libyan Foreign Ministry, the meeting aimed at networking, partnership, and coordination among all governmental bodies. It focused on identifying needs, reviewing past agreements with a goal to reactivate them, and organizing the operations of both governmental and non-governmental international organizations.
This initiative comes as a response to the challenges Libya faces, particularly amid the humanitarian crisis engulfing its eastern cities. Through this meeting, the ministers seek to fortify inter-agency coordination, aiming for a more robust and effective governmental approach to address the dire situation, unravelling in the region.
The emphasis on reactivating previous agreements, and fostering international cooperation reflects Libya's strategic approach to mitigate the ongoing humanitarian crisis. As well as ensure a coordinated response to ongoing challenges.
Last week, the Libyan Parliament-designated Prime Minister, Osama Hammad provided a comprehensive brief on the government's preparedness, and its strategy for reconstructing the city of Derna, and areas adversely affected by the deadly storm Daniel.
This came during a meeting with the Speaker of the Parliament, Ageela Saleh. The meeting was also attended by the Chairman of the Benghazi-based Reconstruction and Stabilisation Committee.
Hammad also provided the extensive endeavours his government took towards managing the catastrophe in Derna, and exhaustive details on the support extended by the executive branches to all impacted zones. As well as introducing a comprehensive development plan for every municipality. He has pledged compensation for the affected residents and revealed that the government has earmarked emergency funds for all the storm-struck municipalities.
Libya has been in chaos since a NATO-backed uprising toppled longtime leader Muammar Gaddafi in 2011. The county has for years been split between rival administrations, each backed by rogue militias and foreign governments.
The current stalemate grew out of the failure to hold elections in December 2021, and the refusal of Prime Minister Abdel-Hamid Dbaiba, who is leading the transitional government, to step down. In response, the country's eastern-based Parliament appointed a rival Prime Minister, Fathi Bashagha, who has for months sought to install his government in Tripoli.