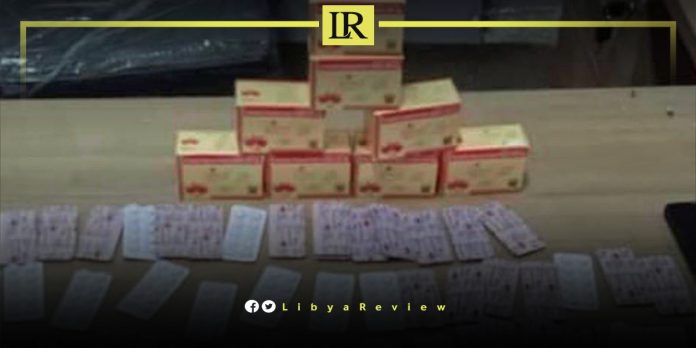 In a significant operation led by the Benghazi Security Directorate, a drug dealer was apprehended in the city of Sabha, with an illicit amount of 800 Tramadol pills. The pills were meant for distribution.
Upon receiving confidential intel, the criminal investigation department of the Benghazi Security Directorate zeroed in on an individual rumored to be transporting hallucinogenic pills from Sabha for trade in Benghazi. Preliminary investigations identified him as a known drug dealer based in Sabha.
Acting promptly on this information, the Head of the criminal investigation department, Colonel Khaled Al-Rabhi, issued directives to monitor all entry points into Benghazi, aiming to nab the alleged trafficker. True to the intel, the suspect was spotted entering Benghazi in a grey Hyundai Sonata.
The statement released by the Directorate detailed the operation, mentioning how the suspect was discreetly trailed until he reached the Bouatni area. Upon interception, he presented a forged driving license missing crucial identification numbers. A subsequent search of his vehicle revealed the concealed stash of 800 Tramadol hallucinogenic pills.
Further interrogation identified the suspect as M.A.S, born in 1998. He confessed to transporting the hallucinogenic pills from Sabha to Benghazi for trade. Interestingly, during the probe, he revealed that his forged driving license was procured without any official documentation through an acquaintance. He also claimed to be involved in smuggling food items to individuals working in gold excavation in the Libyan desert.
The arrested suspect has now been processed with all necessary legal measures and has been handed over to the public prosecution.
In August, a local Libyan fisherman made an alarming discovery on Sunday, finding several tightly sealed rubber bags that he suspected contained illicit drugs. The Sabratha Criminal Investigation Department was notified, where they seized and secured over 25 kilograms of cocaine, taking all necessary legal actions and notifying the Public Prosecution.
In light of this discovery, the Ministry of Interior took the opportunity to stress the critical role of citizens in achieving police objectives.
The Ministry emphasised that the citizen's role in ensuring security and safety is just as vital as that of law enforcement officers. This mutual awareness fosters a robust community relationship and strengthens the bond between the public and security agencies.