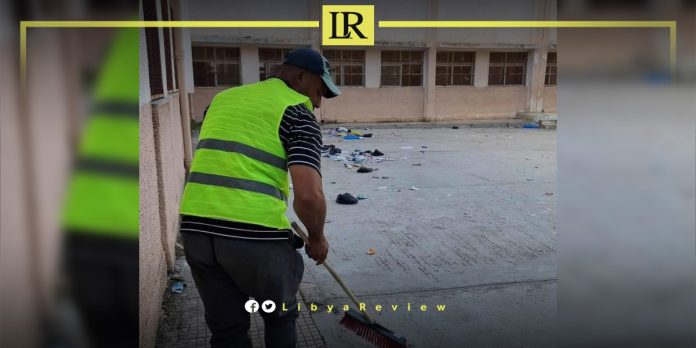 UNICEF Libya has announced the beginning of rehabilitation efforts for 11 schools, in the cities of Al-Bayda and Shahat, eastern Libya. This aims to assist in returning students from Derna, to their educational institutions.
In a statement issued on Sunday, UNICEF highlighted its ongoing work to ensure the safe return of children to school, and the resumption of their education, particularly in the aftermath of the recent deadly floods.
The statement also pointed out that a rapid assessment of the schools affected by the floods has initiated the process of cleaning and rehabilitation. These efforts are intended to support the Ministry of Education in reopening these schools, for the start of the academic year in Derna.
UNICEF further indicated its commitment to providing essential classroom furniture, including student and teacher desks, as well as replacement whiteboards for those damaged by the floods.
The Libyan Education Department in Derna has confirmed that approximately 300 teachers were victims of the devastating floods that struck the city last month.
According to Abdel-Hamid Hamad, the Head of the department, classes are set to resume on 28 October, after the Ministry of Education assesses the extent of the damage.
In his press statement, Hamad stated, "We have initiated the process of identifying the teachers who lost their lives in the disaster, and ascertaining their areas of expertise to address the shortage of teachers in coordination with the Ministry."
He added that damaged schools are currently undergoing repairs, and students have been relocated to the nearest available facilities.
"Derna's Education Department serves a student population of 42,239 attending 73 educational institutions, 18 of which suffered damage due to the floods. According to the latest Ministry statistics, the total count of affected schools in the disaster-stricken areas amounts to 114, spread across 15 municipalities, impacting a student body of 189,157."
On 10 September, eastern Libya experienced intense flooding that swept away entire neighbourhoods, leading to thousands of deaths and disappearances. Homes were submerged, and significant infrastructure damage was observed due to the Mediterranean storm, Daniel.
Libya has grappled with significant political unrest and instability since the overthrow and killing of its longtime leader, Muammar Gaddafi in 2011. In the subsequent power vacuum, the country plunged into chaos with various militias and factions vying for control.
Earlier, the General Union of Libyan Students released a list of 127 students from Derna University, who tragically lost their lives.
Included among the victims were international students hailing from various Arab nations, namely Palestine, Egypt, Sudan, and Syria, illustrating the far-reaching impact of this calamity.
This was carried out under the directives of the Head of the High Committee for Emergencies and Rapid Response, Osama Hammad, who is also the Prime Minister.
The distribution took place at the Derna National Theater. The statement noted that this involved the first batch of compensation for approximately 106 individuals.