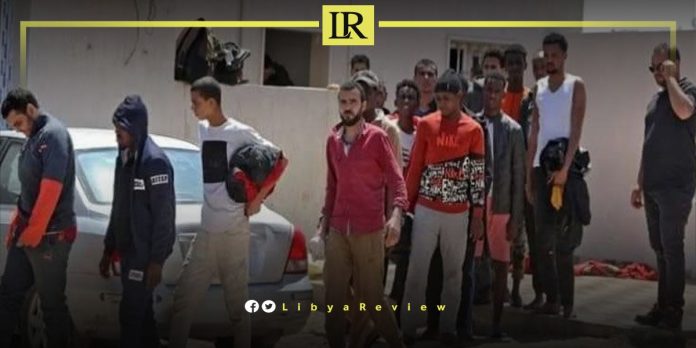 Libyan authorities have released 32 Syrian migrants who were held in detention for 17 days, after being rescued from a capsized boat.
A local source told NorthPress news agency that the families of the detainees, who were in the custody of the Libyan Coast Guard were finally able to contact their loved ones after nearly three weeks of captivity.
The Libyan authorities released the detainees on Saturday. The migrants' boat had capsized for unknown reasons earlier this month, while attempting to cross to Europe via the Mediterranean.
The boat, carrying over 80 migrants, including 32 Syrians, departed from the Libyan shores, but contact was lost shortly after their departure. The Libyan Coast Guard rescued them from the sinking vessel, and transported them to a detention facility in the city of Benghazi.
Earlier this month, a rescue ship operating off the coast of Libya rescued 258 migrants. The first of the two rescues involved a 7-metre-long wooden boat filled with 162 migrants, including 17 women and 29 minors, many of them in a cramped area below the deck.
"The boat had an engine but no navigation system," said Fulvia Conte, the rescue coordinator for the Geo Barents ship, which is run by the humanitarian charity, Doctors Without Borders.
The group of Syrians and Egyptians had spent hours at sea with the boat low in the water.
"Many of them were below deck, in the belly of the boat, a place that is even more unsafe as far as ventilation is concerned," Conte told The Associated Press, adding that rescuers have found people dead below deck during previous rescues.
The second rescue involved 96 people on a similar wooden boat, including nine children, mainly Syrians.
The Italian Maritime Authority told the Geo Barents to take the rescued people to the port of Salerno, near Naples, 400 kilometers from their current location, according to Conte.
She said the assigning of a far-off port "keeps rescue ships out of the area where they are needed for long periods of time. It means to have probably more people crossing in a very unsafe way, or even dying or disappearing or being intercepted and then brought back to Libya."
In a recent statement, the aid group denounced "the scandalous inaction of the governments that sentence to death thousands of people every year."
According to Italian Interior Ministry statistics, as of 6 October, nearly 136,000 people had arrived in Italy this year, compared with 72,000 in the same period in 2023.