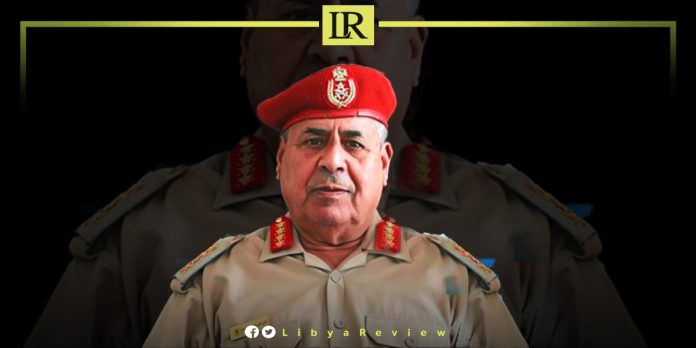 A member of Libya's 5 + 5 Joint Military Commission (JMC), and Military Prosecutor, Major General Faraj Al-Sousa reiterated his commitment to fully investigate the 2016 Brak Al-Shati Massacre.
This announcement was made during a crucial Sunday meeting with relatives of the victims, as reported by the Libyan news channel Libya Al-Hadath.
During his session in Benghazi, Al-Sousa engaged with families who passionately implored for a comprehensive investigation. The tragic episode claimed the lives of 82 soldiers, eight civilians, and 30 remain missing.
A number of press reports indicate that the Southern Military Prosecution has initiated the probe. Their approach includes collecting testimonies from affected families, corroborating with eyewitnesses, and amassing evidence against those implicated.
Intriguingly, the investigation pointed towards the presence of Mahdi Al-Barghathi, the former Defence Minister of the former Government of National Accord (GNA), in the Jufra region during the tragedy.
The channel highlighted that "during Al-Barghathi's stay in Jufra, he held continual meetings over three days with several terrorist groups. Among them were the Benghazi Shura Council, the Third Force stationed at the Tamanhint Airbase, along with various mercenary groups and terrorists named in the prosecution's investigations."
On a related note, forces of the General Command of the Libyan National Army (LNA) arrested Al-Barghathi in Benghazi. This followed violent clashes on the 6 October, resulting in several casualties, including members of his family, as per press reports.
On 13 October, a press briefing by the military prosecution labeled Al-Barghathi as a "key infiltrator", alleging his entry into Benghazi with a 40-strong armed convoy. This group reportedly comprised individuals affiliated with extremist entities, aiming to unsettle the city's stability.
Earlier today, sources relayed the news of the death of Ibrahim Al-Barghathi. He was reportedly killed amid the fighting in the Al-Salmani region, a showdown between Al-Barghathi loyalists and LNA forces.