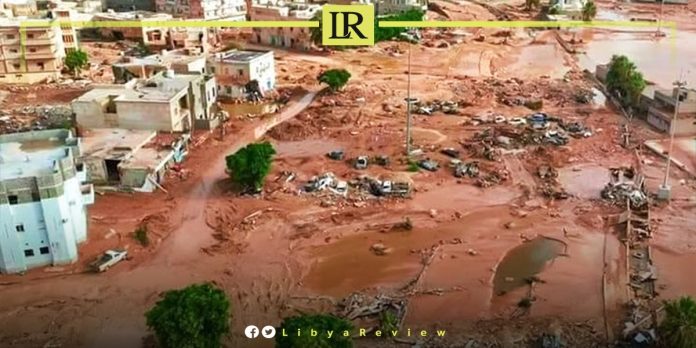 The Emergency and Support Medical Center in Libya reported the retrieval of 10 bodies from the disaster-stricken areas, in the eastern part of the country.
In a statement on Sunday, the center pointed out that healthcare teams also provided their services to 62 individuals. Additionally, they set up focal points in 20 locations, distributed across the entire eastern region.
On Saturday, the center's diving team recovered three bodies and several body parts of the victims of the storm Daniel from Wadi Al-Khabta, east of the city of Derna.
On 10 September, a devastating storm swept through several eastern regions of Libya, notably the cities of Derna, Benghazi, Al-Bayda, Al-Marj, and Sousse. This resulted in significant destruction and led to the loss of thousands of lives, injuries, and missing individuals.
Earlier in October, the Spokesman for the Libyan National Army (LNA), Brigadier General Ahmed Al-Mismari announced that the death toll resulting from the floods that struck the city of Derna has now reached 4,201.
Derna, a pivotal city in Libya, is currently setting the stage for the International Reconstruction Conference—a direct response to the ruin brought by Hurricane Daniel.
The Supreme Preparatory Committee, responsible for orchestrating this significant event, made an evaluative visit to Derna on Friday.
Set to unfurl on the 1-2 November, the conference will span two major Libyan cities: Derna and Benghazi. Its focus is not just on the revitalisation of infrastructure but also a broader push for regional healing.
In a budgetary context, Mohammed Shoubar, representing the "Initiative of Libyan National Forces," commented on Libya's fiscal landscape. He posited that while funds are ostensibly available to address the hurricane's aftermath, challenges arise from potential budgetary mismanagement.
Storm Daniel, which reared its head in September, wrought havoc on Derna—a city housing between 50,000 to 90,000 residents.
In the storm's wake, entire neighbourhoods vanished under its fury. Following this, the Libyan Parliament-designated government took decisive action: the Derna Municipal Council was dissolved, and its members are currently under investigation. Additionally, a comprehensive inquiry into the hurricane's impact, especially the flooding that inundated eastern Libya, has been pledged by the Libyan Attorney General.