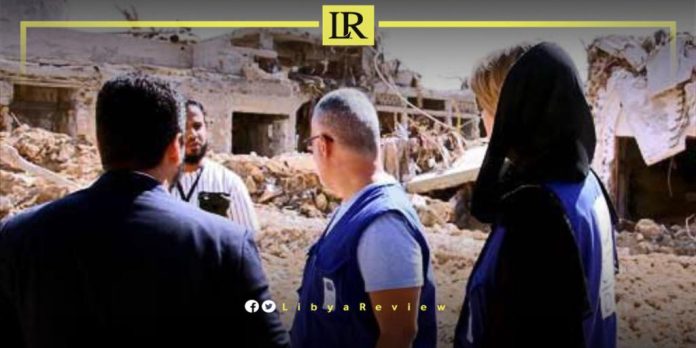 On Monday, the United Nations stepped forward to support Libya's Reconstruction Fund, specifically targeting the cities of Benghazi and Derna.
This initiative is part of the response to devastating floods that inundated Derna, and adjacent areas in eastern Libya last month.
UNDP Libya announced on Monday that it had "deployed an immediate response team in response to the destructive floods in northeastern Libya, to evaluate early recovery needs" in the flood-hit areas. It further emphasised its intensified "technical and advisory support to the Reconstruction Fund for the cities of Benghazi and Derna to contribute to the recovery and rehabilitation efforts." The program noted that it's currently "expanding the scope of this partnership to address the early recovery needs of the affected local communities."
Benghazi's Reconstruction Fund, which also caters to Derna, was established under decree number (45) of 2021 by the Government of National Unity (GNU). Initiated on 2 May 2021, the fund has a budget allocation of about 1.5 billion dinars.
The primary objective of the fund is holistic: to rebuild and restore areas in Benghazi and Derna, ensuring that both cities move towards a path of sustainable development. Moreover, it emphasises repairing infrastructure and buildings to ensure safety and functionality.
To further underline its commitment, the GNU set aside an additional two billion dinars in September. This allocation aims at fast-tracking the reconstruction of affected municipalities, especially areas severely impacted by the recent floods.
On 10 September, a devastating storm swept through several eastern regions of Libya, notably the cities of Derna, Benghazi, Al-Bayda, Al-Marj, and Sousse. This resulted in significant destruction and led to the loss of thousands of lives, injuries, and missing individuals.
Earlier in October, the Spokesman for the Libyan National Army (LNA), Brigadier General Ahmed Al-Mismari announced that the death toll resulting from the floods that struck the city of Derna has now reached 4,201.
Derna, a pivotal city in Libya, is currently setting the stage for the International Reconstruction Conference—a direct response to the ruin brought by Hurricane Daniel.
The Supreme Preparatory Committee, responsible for orchestrating this significant event, made an evaluative visit to Derna on Friday.
Set to unfurl on the 1-2 November, the conference will span two major Libyan cities: Derna and Benghazi. Its focus is not just on the revitalisation of infrastructure but also a broader push for regional healing.
In a budgetary context, Mohammed Shoubar, representing the "Initiative of Libyan National Forces," commented on Libya's fiscal landscape. He posited that while funds are ostensibly available to address the hurricane's aftermath, challenges arise from potential budgetary mismanagement.
Storm Daniel, which reared its head in September, wrought havoc on Derna—a city housing between 50,000 to 90,000 residents.