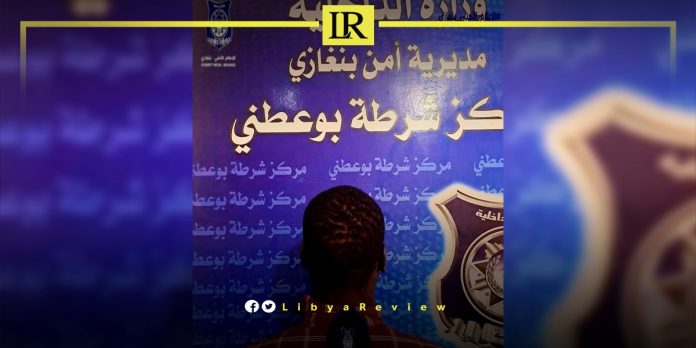 Libyan police arrested two Chadian nationals, who are believed to be involved in the murder of a Chadian security guard at a gas cylinder storage facility, as well as the subsequent burning of his body.
The Benghazi Security Directorate said it has received a report of a fire at a gas cylinder sales warehouse in the Buatni area.
Colonel Mu'taz Zaqlam, the station's commander, promptly ordered members of the investigation unit, and the duty officers to proceed to the scene. They observed personnel from Battalion 36 working to extinguish the fire in the warehouse guard's room.
Upon arrival, a charred body was discovered, with multiple stab wounds also visible on the right side of the abdomen.
The warehouse owner stated that upon his arrival, he noticed the guard's room was on fire, and a hole in the bathroom wall. A nearby resident reported seeing a Chadian national who had been frequenting the area for some time.
Further investigations led to the suspect's place of residence in the Sidi Faraj area. The suspect, identified as Q.A.A., born in 2007, is a Chadian national. Upon questioning, he confessed to killing the victim. Accompanying him was another individual identified as Y.Z.F., born in 2003.
They were reportedly engaged in an altercation with the victim, restrained him on the bed, and stabbed him multiple times with a bladed weapon. They then doused him with diesel fuel, and set him on fire. Additionally, they stole an amount equivalent to 6,900 Libyan dinars. They made a hole in the room's wall to make it appear as if the perpetrators entered through it.
All necessary legal actions have been taken, and they have been referred to the Attorney General's Office.