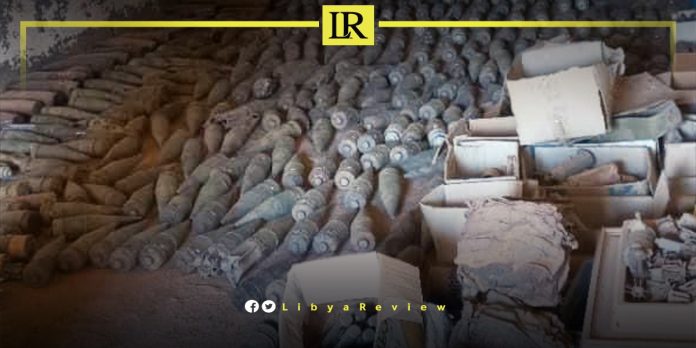 On Thursday, the Libyan Ministry of Interior announced the discovery of 1,430 war-era ordnances, close to a project site, strategically positioned near Sebha International Airport.
The Ministry stated that the discovery was a result of a report from Al-Qarda Police Station in Sebha. Upon receiving the information, the Explosive Ordnance Disposal (EOD) division of the Southern Criminal Investigation Department was dispatched to the scene. The team quickly embarked on securing the area, and assessing the potential threat
The unearthed ordnances comprise of 155-125 type artillery shells, various artillery shell mechanisms, Grad rockets (type 106), and mortar projectiles, sized 180-161.
For public safety, all recovered munitions have been carefully transferred to secure storage units, pending their safe demolition, as per global protocols.
Unexploded ordnances (UXO), such as the mortar shells found in this area are a serious concern. They pose a significant threat to civilian populations, who can accidentally trigger these devices, leading to severe injury or death.
The disposal of such devices is a complex process that requires specialised teams and equipment to safely handle and neutralise the explosives.
Libya has been plagued by ongoing conflict and political instability following the 2011 NATO-backed uprising, which led to the ousting and death of long-time leader Muammar Gaddafi. In the years since, rival factions and militias have vied for power, causing a significant security crisis and leading to the proliferation of weapons throughout the country.
In November 2022, the United Nations Support Mission in Libya (UNSMIL) and the United Nations Mine Action Service (UNMAS) expressed their concerns about the continued loss of civilian lives, due to unexploded ordnance in populated areas.
The two UN bodies said in a joint statement that a child tragically lost his life, when he found and played with a discarded grenade.
"UNICEF and UNMAS are deeply concerned by the continued loss of civilian lives, especially children, from explosive remnants of war and urge all Libyans to be aware of the risks," the joint statement said.