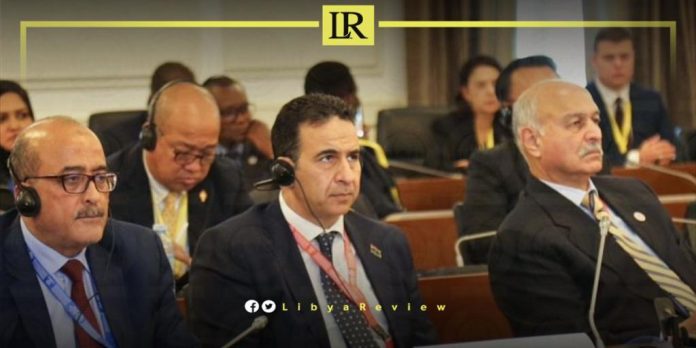 First Deputy Speaker of the Libyan Parliament, Fawzi Al-Nuwairi partook in a meeting in Luanda, Angola, of the Parliamentary Network of the Non-Aligned Movement (NAM) member states. This was on the sidelines of the 147th General Assembly of the Inter-Parliamentary Union (IPU). The gathering reviewed the network's activities since its inception in Baku, Azerbaijan.
The meeting discussed proposals aimed at developing and enhancing the Parliamentary network's work, establishing necessary mechanisms to activate its role among member states, supporting NAM, and achieving its historical objectives and principles.
This comes within the framework of NAM, which was established post World War II, aiming to distance itself from Cold War politics, and foster cooperation among member states.
Al-Nuwairi also met with the Senegalese Parliament's Head, Amadou Mamy Diop. They explored ways to strengthen bilateral relations between the Libyan and Senegalese Parliamentary councils, common cooperation, coordinating within the African group, and discussing the IPU meeting's agenda items.
Notably, a Libyan Parliamentary delegation led by Al-Nuwayri and Dr. Sultanah Al-Mismari met with an Algerian delegation headed by Council of the Nation Vice President, Mohamed Reda Ousahla.
Discussions covered various topics including the Palestinian issue, and the situation in Gaza due to the recent aggression.
The two delegations explored opportunities for cooperation and coordination. Libya expressed deep gratitude for Algeria's support during the recent floods in eastern Libyan cities.
Last month, the Algerian Civil Protection Agency dispatched a rescue team to the city of Derna, in collaboration with local and international teams.
This was in response to the escalating crisis in Libya, in the wake of the destructive Mediterranean cyclone, Daniel that hit the eastern region of the country. Thousands of casualties, injuries, missing, and displaced individuals have been reported.