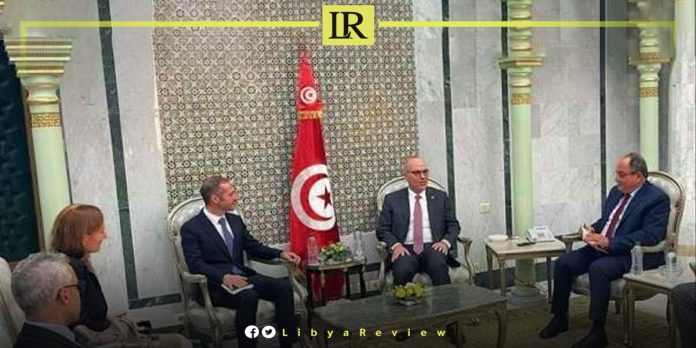 In a crucial dialogue addressing pressing regional issues, Tunisia's Foreign Minister, Nabil Ammar met with Paul Soler, the French Presidential Envoy to Libya.
Hosted in Tunisia, the discussion emphasised a shared vision for a Libyan-led resolution to the ongoing crisis. Ammar voiced Tunisia's "unwavering commitment to a solution that arises from within Libya, ensuring its sovereignty, security, and long-term stability." He underscored the "urgency for regional and international collaborations to rally behind a unified political settlement for Libya."
In recognition of Tunisia's significant role since the beginning of the Libyan crisis, Soler articulated France's "keen interest in further synchronising efforts with Tunisia." He highlighted the mutual objective of "advancing a collaborative strategy to navigate Libya toward a peaceful political trajectory."
The diplomatic exchange also touched upon the simmering issues in the occupied Palestinian territories. Reflecting on Tunisia's staunch position against the continuous aggression in Gaza, Ammar advocated for an immediate halt to the hostilities. He raised concerns about the international community's current stance, and the potential for further destabilisation, not only in the Middle East, but globally.
Last month, the General Commander of the Libyan National Army (LNA), Field Marshal Khalifa Haftar met with the French Ambassador to Libya, Mostafa Mihraje in Benghazi.
The meeting, which was also attended by the French military attaché, touched on the devastating aftermath of storm, Daniel, which hit the country last week.
Mihraje affirmed France's profound solidarity with Libya, both its leadership and citizens, during these tumultuous times marked by severe flooding.
Reiterating France's proactive stance, the Ambassador pledged France's hands-on involvement in aiding search and rescue operations and dispensing medical services to those affected in the Green Mountain regions.
Libya has been in chaos since a NATO-backed uprising toppled longtime leader Muammar Gaddafi in 2011. The county has for years been split between rival administrations, each backed by rogue militias and foreign governments.
The current stalemate grew out of the failure to hold elections in December 2021, and the refusal of Prime Minister Abdel-Hamid Dbaiba, who is leading the transitional government, to step down.